From Strongman to Boxing: Arild Haugen Produces a 30-Second Knockout
Launching his boxing career with a bang, Arild "Emperor of Stones" Haugen knocked out Pavels Dolgos in 30 seconds of the first round, as the former top strongman brought his athletic talents and his ambition to the boxing arena and launched his career last Friday in Spain.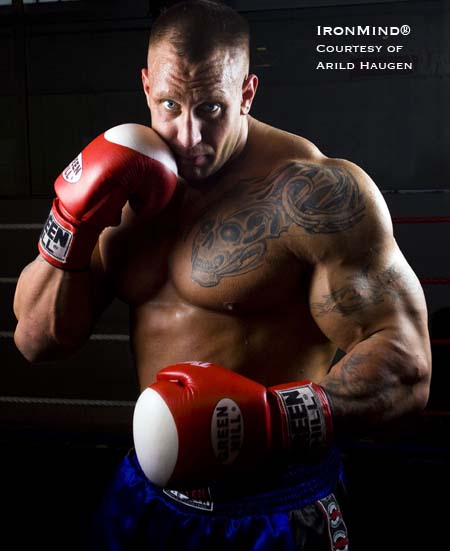 "I have been fascinated by boxing since I was a child.," Arild Haugen told IronMind®. IronMind® | Photo courtesy of Arild Haugen.


To help focus for his fight, Arild Haugen told IronMind®, "I didn't pay any attention to anything other than boxing and relaxing during the last days before the fight." And even though Haugen says, "It was fun," he was quick to add, "but this is only the start of a new area. A new age has begun. This is probably one of the hardest sports on earth. It's a long way to go, but I am still young and hungry, so why not!? Limits are only in your head."

Easy to say when you're the "World's Strongest Pro Boxer" and the man who was so fast on the stones in strongman that Colin Bryce would say if someone else were the King of Stones, Arild must be the Emperor.

IronMind® asked Arild Haugen why he had chosen boxing, rather than MMA.

"I find boxing more exciting for me," Haugen said. "Maybe I would have advanced faster in MMA because of my strength, but this just makes it more fun with boxing and more challenging for me. I think boxing is the purest and greatest area of fighting sports. The history, money and people talk for itself . . . MMA is quite new but very popular. And if I want to turn to MMA after doing boxing, I can, and I will then be a good boxer who [just] needs the grappling and footwork. I have been fascinated by boxing since I was a child."

And as for his roots in strength sports, Arild Haugen told IronMind®, "I will never forget what strongman and the people in strongman did for me, either. They made me and without the strongman career, this wouldn't be so easy."

Watch the clip of Arild Haugen's first fight.