Free the Stones: Blue Stones of Old Dailly Imprisoned
Recently on the IronMind Forum, Peter Martin's son posted a plea for help in freeing the Blue Stones of Old Dailly, and in the interest of supporting this cause, IronMind is reprinting the original post.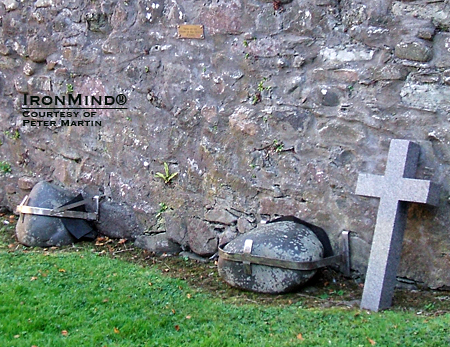 The Blue Stones of Old Dailly have been imprisoned, but with your assistance they can be set free. IronMind® | Photo courtesy of Peter Martin.


"May I take this opportunity to request your assistance to right an inexcusable wrong committed by the perpetrators who shackled the Blue Stones of Old Dailly.


"I am sure you will be aware that the stones in the moderm era at least were brought to everyone's attention by their inclusion in "Of Stones and Strength" by Steve Jeck and my late father. The original history of theses stones is ancient and their historical reference is mentioned in Sir Walter Scott's epic - The Lord of the Isles. Further reference was made in a book called Prehistoric Man in Ayrshire written circa 1880. Both historical and local reference emphasise both these stones as true testing stones of strength which are alas no more due to the actions of South Ayrshire Council in fastening the stones to the church wall thus preventing any attempt made to lift them.


"I am aware that a previous attempt to have the stones made free proved unsuccessful however I believe that it is time for a planned and considered strategy to allow South Ayrshire Council to review their decision and make these fabled stones, once again available for all .

"The first part of the strategy is a request to you all to email me personally asking for the stones to be released. I would ask that in your email you would perhaps make mention as to whether you have lifted the stones (although I can only recall Steve Jeck doing this) or had intended to lift the stones on a visit to Scotland or an intended visit. I ask this especially as this relates to the degree of missed opportunity by local hotels etc.

"I have provided Bill Crawford a rough template for this plan of action however everyone has a part to play and as a resident of South Ayrshire Council I make no apology to drive this action as I feel that I am best placed to do so.

"I will as a matter of course update this forum with the progress of this action. Again, I stress that you input is very much required and I thank you all in anticipation."

To show your support, please email Peter Martin directly.

###


Want to talk strength? Join the IronMind Forum!

You can also follow IronMind on Twitter.