Fortissimus: The Stakes Rise . . . Who's In
The Fortissimus Steering Committee has officially raised the total prize money to US$62,000 committee head Paul Ohl told IronMind® today, with US$14,000 going to the winner.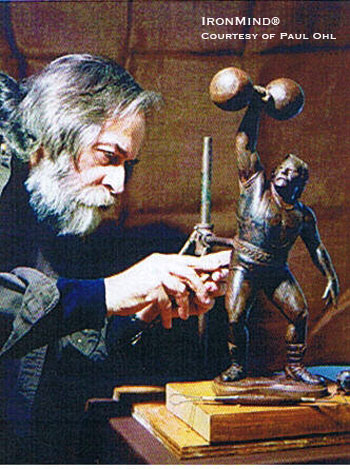 "Renowned Canadian artist, sculptor and painter Michel Binette," has created the Louis Cyr/Fortissimus trophy, Paul Ohl told IronMind®. IronMind® | Image courtesy of Paul Ohl.

Here is the official starting list, just confirmed by Paul Ohl:

Mariusz Pudzianowski
Zydrunas Savickas
Andrus Murumets
Derek Poundstone
Magnus Samuelsson
Travis Ortmayer
Terry Hollands
Mark Felix
Sebastian Wenta
Jessen Paulin
Dominic Filiou

The remaining slot (wild card) will be filled on April 15.

Paul Ohl, whose biography on Louis Cyr is in a class by itself in the field, provided this background detail on M. Binette's work: "It features Louis Cyr hoisting the 273-1/4-pound dumbbell, the greatest one-arm press ever, accomplished on the evening of January 19, 1892, at the Royal Aquarium Hall of London, UK, in front of a sell-out crowd of 5000. This unique piece of art has been casted and produced by the Inverness Bronze Museum, near the city of Quebec. It weighs 14-1/2 pounds (over six kg) and measures 20 inches (50 cm)."

Also made official is Marco Fortier's position as Events Supervisor, as well "as assistant referee to Marc Lauzon." In addition to his successes as a powerlifter, "Marco Fortier also competed in four consecutive Defi Mark-Ten (Louis Cyr) strongman contests (1985-1988), against such greats as Bill Kazmaier, Jon Pall Sigmarsson and Hjalti Arnason. He held the Platform Lift world record of 1850 pounds (841 kg)," Paul Ohl said.