Fortissimus Confirms Six Strongman World Records
"From the start, in October 2007, FORTISSIMUS WORLD STRENGTH had made a commitment to taking the sport of strongman to another level," opened the prepared statement Fortissimus released to IronMind® today.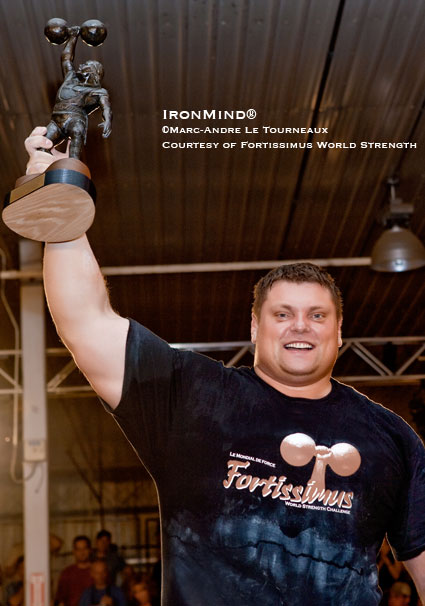 The proud winner of Fortissimus 2009, Zydrunas Savickas, displays his trophy. IronMind® | Marc-Andre Le Tourneaux photo, courtesy of Fortissimus World Strength.


"It began in 2008, with the Louis Cyr World Strength Challenge and it went a step further in 2009, with Fortissimus Strongest Man on Earth," continues the statement:

"After reviewing the official results, supervised by Dione Wessels, president of the American Strongman Corporation, and Liette Latreille-Lauzon, senior scorekeeper of Fortissimus 2009, FORTISSIMUS WORLD STRENGTH announces that a total of six world records of strength have been established. Four by Zydrunas Savickas of Lithuania, one each by Derek Poundstone and Brian Shaw of the the United States.

"ZYDRUNAS SAVICKAS, winner of 2009 Fortissimus Strongest Man on Earth, is credited with four (4) world records: Super Yoke of 925 lb. ( 420.5 kg) on a 30-meter course in 18 seconds; Overhead Medley of 10 lifts (3 x two-arm and 7 x one-arm) for a combined 2,402.5 lb. ( 1,092 kg); One-arm Dumbbell Medley of 7 lifts, including a one-arm max 225 lb. (103 kg), for a combined 1315 lb. (598 kg) in 37.19 seconds; heaviest overall poundage lifted in a strongman competition with 36,886.5 lb. (16,767 kg).

"DEREK POUNDSTONE, runner-up at 2009 Fortissimus Strongest Man on Earth, is credited with one (1) world record: Farmer's Walk with a combined 1,354 lb. (615.5 kg) over a 60-meter course (2 x 30 meters) in 38.08 seconds

"BRIAN SHAW, third place winner of 2009 Fortissimus Strongest Man on Earth is credited
with one (1) world record: 9 Stones of Strength (6 x Atlas Stones and 3 x Natural Stones) combining 3,375 lb. (1,534.5 kg) in 1 min 26.56 seconds."

Paul Ohl, president of Fortissimus 2009, added:

"By the facts and figures Fortissimus 2009 succeeded in bringing the sport of strongman to new standards. This has to be good news for the world strength community and to the upcoming international strength athletes.

"This competition will go down as one of the greatest encounter in strongman bar none. A perfect match between two of the best ever: Zydrunas Savickas and Derek Poundstone. The results of Fortissimus 2009 show without any possible doubt that Zydrunas Savickas was near perfect in getting 124.5 points out of 140. He won six out of 10 events, averaged 93% of successful lifts, got four world records and won the ultimate title.

"Such accomplishments must be highlighted in the history of the sport of strongman," concluded the statement.