Fortissimus 2008: Athletes Contacted, Dates Announced, Logo Released . . .
"The Steering Committee of FORTISSIMUS 2008 announces that all of the world-class strength athletes whose names were on the premium list have been contacted," Paul Ohl reported to IronMind®, "and explained in writing the profile and details of the decathlon of strength called THE LOUIS CYR WORLD STRENGTH CHALLENGE."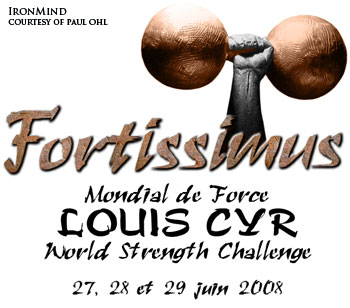 Just given to IronMind® to release, this is the logo developed by the Fortissimus 2008 Steering Committee. IronMind® | Courtesy of Paul Ohl.

"The official line-up of competitors will be released, at the latest, on December 20, 2007," Ohl told IronMind®. "The committee also announces that the official dates of the competition will be June 27-29, 2008."

In response to IronMind®'s reports on FORTISSIMUS 2008, the potential impact on the world community of strongman appears huge. Paul Ohl, chairman of the organization, said: "We sense that we have rallied a huge number of strongman fans (more than 10,000 posts on nine international strongman forums). And we know for sure that we have got a wide if not a unanimous approval from experts in the field.

"They have praised the concept saying that it intends to bridge a gap between strongman organizations. We are pleased about this, but it is not for us to discuss that issue. Our aim remains to spread the legacy of Louis Cyr. He was and remains the world-wide reference when it comes to all-time feats of strength.

"Since the concept of FORTISSIMUS has been thought of so to honor the legendary Louis Cyr, we are expecting a showing of sportsmanship, resilience and pursuit of excellence from today's top-ranked strongmen of any affiliation. This is why FORTISSIMUS 2008 welcomes those world-class strength athletes who believe, without any restrictions, that they can beat all other competitors in a two-day ultimate strength challenge of strength.

"In a few days, the world strongman community will discover the selected few that are prepared to stand by Louis Cyr's motto: 'Never back down from any challenge.'"