First Ever Hungary vs. Austria Highland Games
Rain didn't dampen the spirits at the inaugural Hungary versus Austria Highland Games yesterday.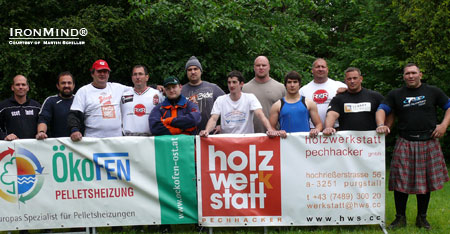 The Highland Games are gaining in popularity across Europe, and this past weekend, Otscherland Highland Games hosted the first Hungary versus Austria Highland Games. IronMind®| Courtesy of Martin Schiller.


Ötscherland Highland Games
by Francis Brebner

Braving the rain, spectators turned out yesterday for Ötscherland Highland Games in the city of Purgstall, Austria, to witness the first ever Highland games competition staged between Austria and Hungary.

Adam Darazs, president of the Hungarian Highland Games Federation, selected selected four of his best athletes to compete in a five-man team that battled it out with five of Austria's best athletes, despite some heavy rain and the ground being very slippery, the athletes gave their all.

In the opening event, with the 28-lb. weight for distance, it was very close competition between Martin Schiller and Akos Nagy, with the first win going to Austria's Martin Schiller with a distance of 60'8-1/4". In a very close second place was Hungary's Akos Nagy with 60' 1-1/4". Robert Meszaros (Hungary) was third (53' 6").

The next event with the 16-lb. light hammer saw Austria's Martin Schiller notch up his second win with a throw of 105' 7-3/4". In second place was Hungarian Robert Meszaros with 99' 1" and in third place was Csaba Meszaros (Hungary), with 89' 3".

The 22-lb. Braemar stone witnessed a very close competition between the top three with the victory finally going to Hungarian Robert Meszaros with a winning putt of 31' 11-1/2" with Hungary's Adam Darazs in second place with 30' 10-1/2" and Austria's Martin Schiller in third place with 30' 7-1/2".

Moving onto the 16-lb. open stone, this event was dominated by Austria's Martin Schiller by nearly a meter with a putt 43' 6". In second place was Robert Meszaros with 39' 8". Adam Darazs was in third place (38' 5").

The 56-lb. weight over the bar was dominated by the Hungarians, with Akos Nagy winning with a height of 15' 1", in second place was Hungarian Csaba Meszaros with 14' 5-1/4" and in third place was Adam Darazs. The best height made by the Austians was Martin Schiller's with 13' 1-1/2".

The caber toss was the final event and it proved rather difficult with the wet conditions and the best was judged on degrees with Austrian Martin Schiller going ahead of Adam Darasz for the win, with Darazs in second place and Austrian Richard Springl in third place.

| | | |
| --- | --- | --- |
| 1. | Martin Schiller (AHGF) | 11.5 |
| 2. | Adam Darazs (HSMA) | 19.0 |
| 2. | Robert Meszaros (HSMA) | 19.0 |
| 4. | Csaba Meszaros (HSMA) | 30.0 |
| 5. | Robert Katzenbeisser (AHGF) | 34.0 |
| 6. | Akos Nagy (HSMA) | 37.0 |
| 7. | Franz Kastenberger (AHGF) | 41.0 |
| 8. | Rajmund Mengyi (HSMA) | 45.5 |
| 9. | Hannes Kainz (AHGF) | 47.5 |
| 10. | Richard Springle (AHGF) | 52.5 |
| 11. | Florian Simhofer (AUT) | 60.0 |
| 12. | Patrick Schedlmayer (AUT) | 69.0 |
In the combined team match between Austria's top five athletes and Hungary's top five ranked athletes, the final points were as follows: Team Hungary 148.5 and Team Austria 179.5

Martin Schiller, the president of the new formed Austrian Highland games Federation affiliated with the IHGF, was very happy with the event on a whole and looks to build more major Highland games events in Austria for the future: "It is a wonderful sport and we Austrians just love the challenge it brings."

###



The IronMind Forum: discuss this article, talk strength, get help with your training.

You can also follow IronMind on Twitter.