Finland's Strongest Man, Woman: Jarno Jokinen, Kati Luoto Win
With 25 years of consecutive contests, Finland's Strongest Man might has an illustrious history in strongman—a history not just of deep roots, but also one with close ties to the apex of the strongman world. Jyrki Rantanen filed this exclusive report for IronMind.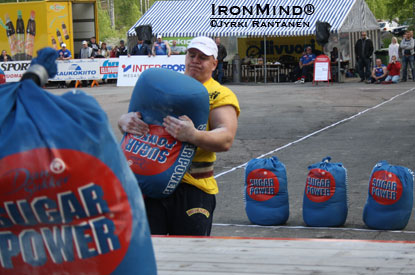 "Finland's Strongest Man 2011, Jarno Jokinen, in sack loading—where he edged out last year's champion Pedro Karlsson and took the title he was looking for 13 years," reported Jyrki Rantanen. IronMind® | Jyrki Rantanen photo.


Finland's Strongest Woman 2011 & Finland's Strongest Man 2011
by Jyrki Rantanen

This weekend was full of strength in Finland—on Friday Finland´s Strongest woman competition was held in Sastamala, Finland (Hotel Ellivuori). Unfortunately, I was not able to attend until Saturday. Fortunately, the winner, Kati Luoto, helped this report by winning five of the six events and she took her 6th win in this national competition. The opponents were high class starting from Niina Jumppanen and Kirsi Järvi (both runners-up from previous years), along with Jaana Tanner (Finnish record holder for Rolling Thunder and Apollons Axle). With a little humor we can also say that Kati Luoto is the World´s Strongest Grandmother (she's 38 and she just got a grandchild).

Full results from the competition can be found:

http://www.suomenvahvinmies.fi/File/Suomen%20Vahvin%20Nainen%202011%20tulokset(1).pdf

On Saturday, I was able to go on the venue and was witnessing a 12-man competition (8 went to the finals after 3 events), with good efforts from the top guys. The events were wheelbarrow race, powerstairs, atlas stones, viking press, arm-over-arm pull and sack-loading. All the events seemed to be just well matched to the competitors except the viking press, which was too light due the event winner Antti Mourujärvi made 32 reps and many other were also in range of 20-30 reps.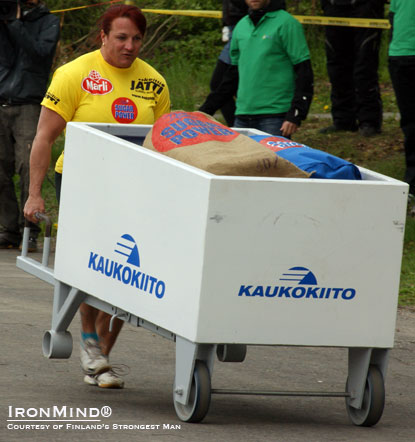 Kati Luoto, winner of Finland's Strongest Woman 2011, in the Wheelbarrow Race. IronMind® | Courtesy of Finland's Strongtest Man.

In total it was a four-man battle, where in the end Jokinen's star was shining the most brightly with 67 points. He took the title he was already hunting back in the 1990s (Jarno is now 38 and made a comeback last year). 2010 champion Pedro Karlsson did well and took the silver medal this time and kept the newcomers behind with 62 points—just 2 points behind him, the youngsters Mika Jaakola and Antti Mourujärvi had a real close battle ending up with a tie at 59 points (Jaakola had better event placings and he got the third-place trophy).

Full results from the mens competition:

http://www.suomenvahvinmies.fi/File/Suomen%20Vahvin%20Mies%202011%20tulokset(2).pdf

Both competitions will be shown in tv2 (national channel) after one week or so and afterwards they can be located (free) from http://areena.yle.fi/.

This was the 25th time in a row that the Strongest Man in Finland competition was held and I think it is one of the oldest ongoing strongman competitions in the world (even World's Strongest Man (WSM) cannot match due it not being held in 1987).

During the first 20 years or so, the winner of Strongest man in Finland was Finland´s representative in WSM, but the politics (IFSA, etc.) ended this tradition sadly some years ago and it is one of the main reasons why the popularity of the strongman event went down some years ago. Around ten years ago there were approximately 30–40 competitors each year in this classic competition, battling against each other to see who would get the spot. Memories are memories, but imagine for example competitions in the late '90s: Ahola, Virtanen, Ojanaho, Varalahti, Heinonen, Räsänen, Paavisto, etc. all in the same line. Those were the days and I really hope the good days will get back along with new faces in the sport.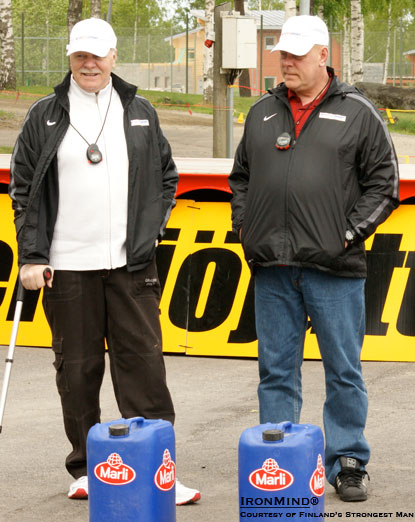 "Finland strongman grand old men Ilkka Nummisto (left) and Markku Suonenvirta (right) are the honoured organizers of the oldest strongman competition in Finland—every year since 1987 these guys have build up this traditional contest," said Jyrki Rantanen. IronMind® | Courtesy of Finland's Strongest Man.

###


The IronMind Forum: discuss this article, talk strength, get help with your training.

You can also follow IronMind on Twitter.