"More growth for the IHGF as Finland becomes the fifth country to affiliate with the IHGF within the last six months, as Jyrki Rantanen has recently been made the official IHGF Representative for the whole of Finland," Francis Brebner told IronMind today.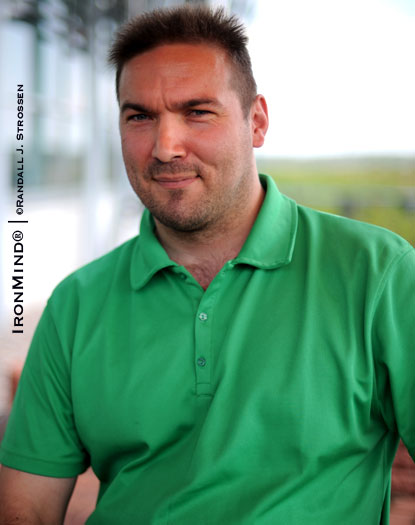 Jyrki Rantanen, a top Finnish 105-kg strongman competitor who is well known at IronMind as Randall Strossen's chief attaché in Finland since 1998, has been named the senior IHGF official for Finland. IronMind® | Randall J. Strossen photo.


"Jyrki has been involved with strength sport for twenty years and has a total of thirty years competing in sports such as strongman, boxing, swimming, and basketball, but there was also a time when Jyrki also trained for Highland Games.

"He has also had a very successful career in strongman placing, 2nd overall in World's Strongest Man under 105kg in 2004, and has plenty of other smaller victories to his credit with over seventy competitions around the world in such copuntries as Finland, USA, Estonia, China and Scotland; and has been organizing, refereeing and working in approximately one hundred different strength competitions to date

"Jyrki now feel it is time to rekindle those memories he once had of Highland Games, but this time to promote the sport of traditional Highland Games across his home country of Finland.

"'My plans for this year,' Jyrki said, 'Are to introduce the sport to Finland and get everything set in place and ready for the first Finish National Championships planned for 2012 in my home town of Hämeenlinna, Finland.

"We have very talented athletes here in Finland that that come from very strong athletic backgrounds such as tack and field and other strength backgrounds that would do very well competing in Highland games once they get a grasp of the sport.

'My plans are to bring in Ryan Vierra and Francis Brebner for a major IHGF coaching Clinic/ Ranking Games planned for the last quarter of the year - probably the month of October, here in Hämeenlinna, as this will be a little more of flexible time schedule for all newcomers to the sport looking to attend, and also athletes from neighboring countries that wish to attend also.

'From their we can introduce athletes in men and woman categories along with masters and novices aged 15-20 years olf to all the aspects of traditional throwing disciplines and the governing rules of the sport.

'I believe we can pave the way to work with the IHGF in hosting future championship events with an outlook of some of our Finnish athletes competing in other IHGF European Championship events and also the honor of a Finnish representative competing in the IHGF World Amateur Highland games Championships.'"

All athletes interested about the clinic/games in Finland or nearby countries can contact info@highlandgames.fi.

###



The IronMind Forum: discuss this article, talk strength, get help with your training. http://www.ironmind-forum.com/

You can also follow IronMind on Twitter.