FORTISSIMUS 2009: "Who Will Be The One?"
"Who will be the one?" asks Paul Ohl and a legion of strongman fans worldwide as Fortissimus 2009 draws near.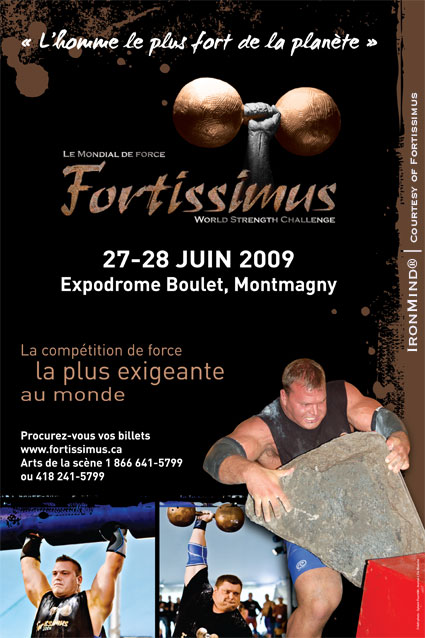 Fortissimus 2009: a 10-event strongman contest steeped in history and aimed at crowning "the strongest man on earth." IronMind® | Artwork courtesy of Fortissimus World Strength.

With less than a week to go until the curtain rises, IronMind® has received the official start list as well as well as some highlights as noted by Fortissimus World Strength, with an emphasis on "some amazing figures about the ten events that will decide on who will be the one strength athlete that will prevail."

Here is the official start list:

1. Derek Boyer (Australia/Fiji)
2. Agris Kazelniks (Latvia)
3. Mark Felix (United Kingdom/Grenada)
4. Terry Hollands (United Kingdom)
5. Louis-Philippe Jean (Canada)
6. Mikhail Koklyaev (Russia)
7. Philip Pfister (USA)
8. Travis Ortmayer (USA)
9. Jimmy Marku (United Kingdom)
10. Christian Savoie (Canada)
11. Derek Poundstone (USA)
12. Brian Shaw (USA)
13. Zydrunas Savickas (Lithuania)
14. Andrus Murumets (Estonia)

"Marcel Mostert (Netherlands) will serve as referee-in-chief, with Ilkka Kinnunen (Finland) as senior official and Marc Lauzon (Canada) as supervisor. These will be the men in charge of the decathlon of strength whose total poundage will reach an unprecedented 16,447 lb., up by almost 19% over the inaugural edition of Fortissimus in 2008.

"Two events will decide of the king of overhead lifts (IronMind® Overhead World Challenge), a huge contest in itself with twelve two-arm and one-arm lifts at a combined 3,208 lb.

"As for the king of stones (Slater King of Stones World Challenge), another two events combining Atlas and natural stones of strength, the competitors will face 10 stones overall, a total of 3,905 lb., up by 40.5% over last year.

"The power stairs with three weight blocks have been increased to 1,475 lb., a leap of 55%. The super yoke will be at 925 lb. on a course of 100 feet, up by 50 lb. and almost 20 feet over 2008, and the Sigmarsson Wheels deadlift, at 880 lb. for reps, will top last year's challenge by 10%.

"Fortissimus 2009 has seven out of ten events that account for an average increase of 18.5%; that is just huge," said Paul Ohl, president of Fortissimus 2009. "This tale of the tape may be as close as can be to the near limits of extreme human strength. And this is exactly what defines the strongest man on Earth. The only question now is: who will be the one? And that question will find its definite answer this coming Sunday, June 28, 2009. It will prove to be the experience of a lifetime for the athletes and for us."

IronMind® will continue to have updates. In addition, please check the official Fortissimus website for further details and ticket information.