FORTISSIMUS 2008: Introducing Louis Cyr
As reported earlier, Fortissimus 2008 was inspired by the great Louis Cyr and there is nobody in the world we know of who is as qualified as Paul Ohl to speak about the man he describes as, "The legendary figure behind the event."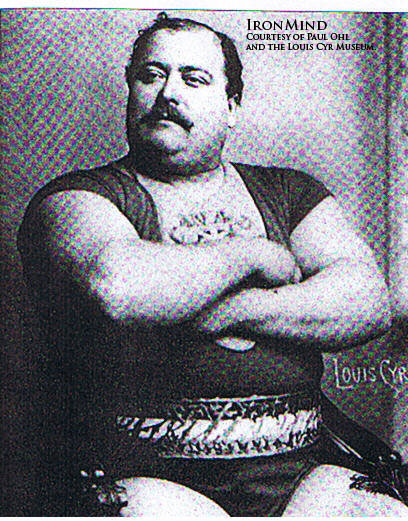 Illustration of Louis Cyr, photographed in 1892, returning from England with the Fortissimus belt. Courtesy of Paul Ohl and the Louis-Cyr Museum (for the exclusive use of IronMind®).

Paul Ohl told IronMind®, "As a tribute to the legendary figure Louis Cyr, the organizers of FORTISSIMUS 2008, have decided to stage for the first time ever a Decathlon of Strength consisting of ten events linking a selected field of world-class strongmen to the traditional roots of strength athletics."

"The sole name of Louis Cyr once shook the world," Ohl said. "He has set a unique stage and showed the way in one flamboyant fashion. One and a half centuries later, such names as Paul Anderson, Jon Pall Sigmarsson, Bill Kazmaier, Magnus Ver Magnusson and Mariusz Pudzianowski are to be praised and recognized as Louis Cyr's legitimate heirs. This is what FORTISSIMUS 2008 will be about: bearing the torch of history one step farther."

IronMind® considers it an honor to present, directly from Paul Ohl, an introduction to this towering figure of the strength world:

"The name of Louis Cyr is mythical when it comes to all-time feats of strength. Born in French Canada (now Quebec) in 1863, he is considered by Canadians and many historians of strength as the strongest man that ever lived. He is also recognized as the forefather of strength athletics, having laid the foundations of strongman competitions, its rules, and competed in the first ever event (1886) leading to a national strength title, three years before Eugen Sandow did the same in England.

"Cyr, then called the Canadian Samson, was the first strongman to challenge all comers, crossing the Atlantic in 1891 to claim and win the Strongest man in the world's title.

"Louis Cyr's strongman career lasted for more than 20 years, from 1883 to 1906. Archives reveal that over 1,000 feature articles have been written on the man and his achievements, both in Europe (Great Britain, France, Germany, Italy and Russia), and in America, from coast to coast in Canada and across 22 states of the USA.

"In 1897, The New York Clipper, forefather of the Guiness Book of World Records, credited Louis Cyr with an incredible 50 world records of strength. He held them all.

"Unchallenged to the end, Louis Cyr died in Montreal, Canada, on November 10, 1912, from kidney failure also called Bright disease. He was 49."