European Weightlifting Championships: Qerimaj Wins the 77s
Antalya, Turkey—The Albanians were confident that this was going to be Erkand Qerimaj's year and after three good snatches netted him a silver medal, he finished off with a 190-kg clean and jerk for the jerk and total gold medals.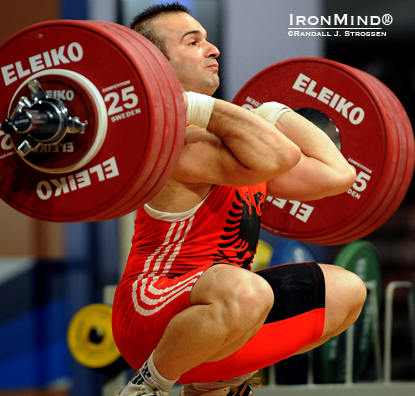 Erkand Qerimaj hits the bottom with 190 kg on his third attempt, jerking the weight for the 77-kg title at the 2012 European Weightlifting Championships. IronMind® | Randall J. Strossen photo.


The defending champion, Turkey's Semih Yagci, got off to a rough start as he only made his opening snatch, 150 kg, and this was a class that was so tightly bunched that missing a couple lifts, opened the door for a stream of competitors to slip by.

Alexandru Dudoglo (Moldova) is coming off bomb outs at a couple of big contests in a row and his last solid international performance was in Antalya at the 2010 World Weightlifting Championships, so his fans were hoping the setting would reverse his poor results of late. In fact, he made 155 kg and 158 kg in the snatch, getting his night off to a bronze-medal start. Razvan Martin (Roumania) made 159 kg for the gold medal in the snatch.

Russia's misfortunes in the clean and jerk continued as Dmitry Ivanenko bombed with 180 kg, and Yagci did himself no favors by only making one good lift, 186 kg.

The two-horse race that had been set after the snatch began to look as if it might change abruptly because after Qerimaj made 187 kg on his opener, Martin missed it on his first attempt and then he also missed 188 kg. Things shifted rapidly again, though, as Martin made the 188 kg on his third attempt, for gold medal position in the jerk and in the total.

Qerimaj made things even more exciting by missing the jerk on 190 kg, losing his chance to leapfrog over Martin, but then he repeated for a success and the 77-kg title.

###



Visit the IronMind Forum: talk strength, discuss this story. Strongman, grip, Highland Games, Olympic lifting, stones and more.

You can also follow IronMind on Twitter.