European Weightlifting Championships: Erol Bilgin Wins the 62s
Bucharest - Erol Bilgin (Turkey) swept the gold medals in the 62-kg category at the European Weightlifting Championships via a 133-kg snatch, 160-kg clean and jerk, and 293-kg total, but he wasn't the only lifter worth noting.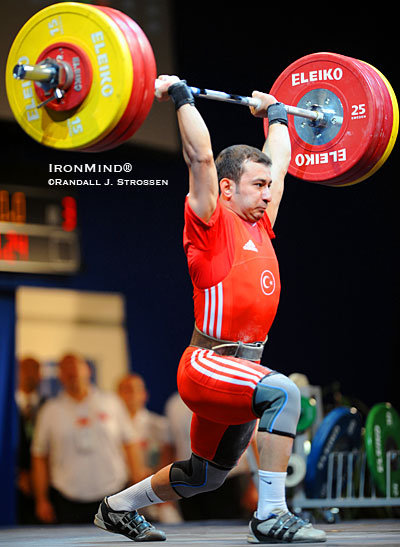 After missing this 160 kg on his second attempt, Erol Bilgin came back to make it on his third attempt. IronMind® | Randall J. Strossen photo.


In a class with a lot of missed lifts, the top three lifters stood out: Erol Bilgin, along with Zulfugar Suleymanov (Azerbaijan) and Minasidis Dimitris (Cyprus).

Bilgin missed his opening snatch when he couldn't get under the bar with 130 kg, so it wasn't a promising start, but he came back to make the weight and then 133 kg. Dimitris had also missed his opener, 122 kg, but after making the 122 kg on his second attempt, he finished his snatches with a good 127-kg lift. Suleymanov had opened with a good 120 kg, made 125 on his second attempt, and then missed 127 kg on his third attempt.

Of the leaders, Dimitris was first to open in the clean and jerk, hitting 149 kg. Suleymanov opened with a good 152 kg and Bilgin opened with a nice 155 kg. Dimitris went on to make 152 kg and then 157 kg, the weight that Suleymanov had missed on his second attempt. Bilgin easily cleaned 160 on his second attempt, but then he lost the jerk overhead. Suleymanov followed with the same weight - going for the lead in the jerk and the silver in the total - and he was successful. Bilgin repeated with 160 kg on his third attempt, bumping Suleymanov down to silver in the jerk on body weight, in what was very nice comeback lift.

Bilgin won all three gold medals, looking good in the process, but the biggest story might have been Minasidis Dimitris, the 19-year-old Cypriot who is coached by no less than Christos Iakovou, the former Greek coach who left that post following a doping scandal. Dimitris displayed the sort of swagger, not to mention the strength and speed, that you would expect from a potential champion. Since he also power jerks and looks from side to side when he holds the bar overhead, he's somewhat reminiscent of a former Iakovou athlete who made quite a splash in weightlifting . . . Pyrros Dimas.