European Weightlifting Championships: Day One
Wladyslawowo, Poland - The numbers weren't huge in the men's 56-kg class at the European Weightlifting Championships tonight, and at the end of the day, it was all Vitali Dzerbianiou (Belarus).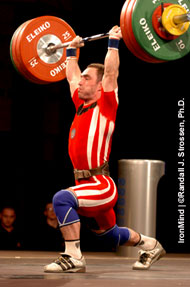 Vitali Dzerbianiou (Belarus) looked like he had this 153-kg jerk, but he ran out of platform trying to save it. IronMind® | Randall J. Strossen, Ph.D. photo.

Dzerbianiou easily won the snatch, making 123 kg compared to silver medalists Laszlo Tanscsic's (Hungary) 112, but for the hometown crowd, there was a lot of happiness as Marcin Makarski (Poland) got the bronze medal with his 111. Dzerbianiou opened with 141 in the clean and jerk, after everyone else had finished, and made a strong success with it, and also with 145 on his second attempt. Jumping to 153 kg on his third attempt, he followed a solid clean with what looked like a good jerk, but then he started losing it forward, and almost chased it down - finally running out of platform, though, and he had to dump it behind.

Earlier in the day, Estefania Juan (Spain) swept the golds in the women's 48-kg category, ending up with 83/102 for a 185-kg total. Juan came through with a 102-kg third attempt clean and jerk that she really needed - Juan couldn't stand up with the weight on her second attempt, but struggled up with it on her third attempt and then punched the jerk overhead. Svetlana Ulyanova (Russia), who had tied Juan in the snatch, but who was heavier, made 100 kg on her opener and then took two shots at 103, but it was no cigar.

Marioara Munteanu (Romania) won the women's 53-kg class via 82/109, overtaking Nataliya Trotsenko (Ukraine), who had snatched 87 kg, but missed her opening jerk, 103, came back to make it, but could not answer when Munteanu leapfrogged her with a successful 109 kg third attempt. Munteanu power cleaned her first two attempts, but squatted on the 109, and once again capped off the clean with a strong jerk.