Europa Super Show: NAS Platinum Plus
Speaking from the Europa Super Show in Dallas, North American Strongman's Dione Wessesls told IronMind®, "We had our last Platinum Plus show for the year . . . Max Pippa won the 105-kg division and Andrew Palmer won the open division."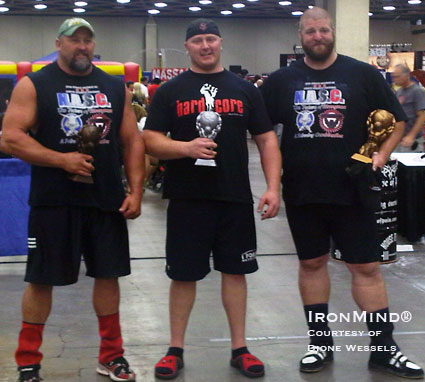 NAS Platinum Plus at the Europa (left to right): Rob Lewis, Ryan Bracewell, and Andrew Palmer. IronMind® | Photo courtesy of Dione Wessels.


"It was an awesome show and crowd. For both athletes, the competition came down to the last event, the stone over the bar," Wessels said.

With this big show on the books, it marks another step forward for North American Strongman (NAS).

"NAS continues to grow each year with bigger contests and venues," said Wessels. "We are seeing a lot of athletes with tremendous potential! The NAS National Championships will be October 10th and 11th in Lafayette, Louisiana and it will be our 127th show for the year. We are up from 120 shows from last year."

Quick to credit the parties who share in the success, Wessels told IronMind®, "NAS would not be where we are if it were not for the State Chairs, promoters, athletes, and sponsors."

For more details on NAS and a schedule of upcoming events, please visit the official NAS website.