Erol Bilgin Wins the 62s at the European Weightlifting Championships
Minsk—Erol Bilgin (Turkey) went 5 for 6 and finished the evening with two gold and one silver medal at the European Weightlifting Championships.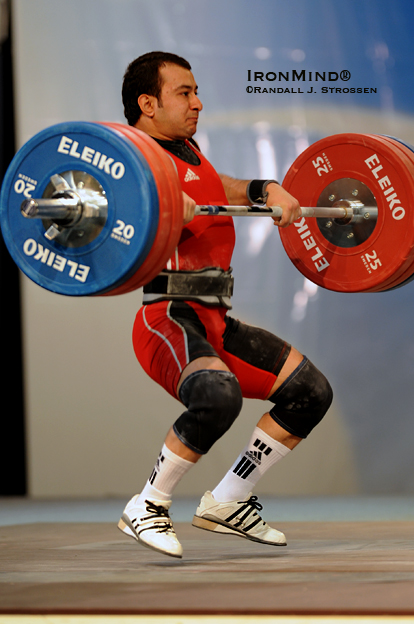 62-kg competitor Erol Bilgin pulls himself under this 165-kg clean and jerk at the European Weightlifting Championships. IronMind® | Randall J. Strossen photo.


Good snatches filled the air as lift after lift was successful—the top five competitors in the snatch made all three attempts and the next five only missed one attempt, which seems like some sort of record. Bilgin bagged the gold medal with his 139-kg third attempt lift.

But balance must be maintained in the universe and for all that went well in the snatch, the clean and jerk took an opposite turn.

Antoniu Buci (Romania) opened with 161 kg, which he missed, came back to make and then finished off with 165 kg which was the gold medal lift. Henadzi Makhveyenia (Belarus) was looking to build on the bronze medal he had won in the snatch, and opened with a good clean and jerk with 155 kg, but disaster struck on his second attempt, 161 kg, when, with the bar overhead, it came crashing down as Makhveyenia collapsed, immobile, on the platform.

The bar did not appear to have hit Makhveyenia on its way down, but the fact that he was silent and unmoving only added to the concern. The loaders lined up in front of the stricken lifter, shielding him from the stunned audience as the medical team rushed up on the platform. Minutes later, Makhveyenia was taken off on a stretcher with his arm apparently immobilized and it was later reported that he had dislocated his shoulder.

Bilgin had made 160, missed the jerk on 165, and then came back to make it. Zulfugar Suleymanov (Azerbajian) made 162, and then going for the gold medal in the clean and jerk and the silver medal in the total, missed the jerk with 168 on his second attempt - he had a very narrow, shallow split which really worked against him on this lift. Repeating with this weight on his third attempt, Suleymanov didn't even deadlift the bar.