Eric Frasure and the Shriners: Fun-Filled Fundraiser
Eric Frasure and a few of his burly friends hooked up and had some fun raising money for the Shriners Hospital for Children.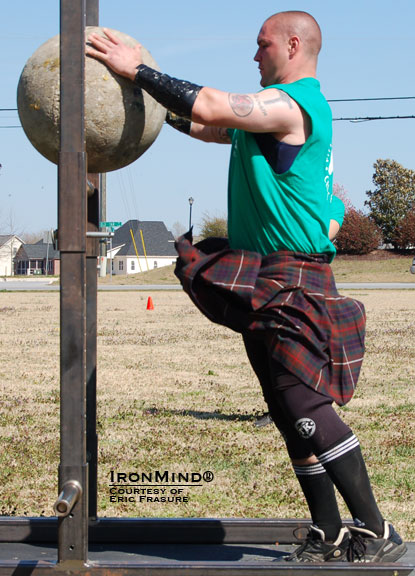 Eric Frasure on the Atlas Stone for reps. IronMind® | Courtesy of Eric Frasure.


Highland Games and Strongman Demos
Reported by Francis Brebner

It was a beautiful sunny day in North Carolina this past Saturday for the Highland Games and Strongman Demonstrations held at the Pitt County Shrine Club. This event, organised by Eric Frasure and the Pitt County Shrine Club, attracted the support of some well-known athletes like Dave Hansen, Mike Pockoski, Gene Flynn, Wes Kiser, Thor Gylfason, Johann Gylfason, and Bill Gordon.

More than two hundred spectators turned out to support this charity event that grossed over $2,100 dollars for the Shriners Hospitals for Children. The event which lasted from 11 am to 5 pm included bagpipers and other family attractions, and of course, food.

One of the Highlights of the Highland Games demonstration was Mike Pockoski throwing more than 114' in the heavy hammer and over 136' in the light hammer. Gene Flynn was on fire all day in both the strongman and the heavy events; David Hansen dominated the overhead press medley in just under 32 seconds; the medley included a 155-lb. circus dumbbell, 150-lb. keg, 230-lb. axle, 230-lb. log, and 175-lb. stone. Hanson and Frasure each did a total of 18 reps lifting and dropping the 330-lb. Atlas stone over a bar height of 52". This event caused quite a stir amongst the excited crowds which encouraged more donations to be given.

Asking Frasure how things went overall, he said it was fantastic and the many spectators in attendance stayed until the very end. All the athletes put in a great performance, and Wes Kiser looks almost ready for his pro debut. The managers of the Pitt County Shrine Club really enjoyed the event and would like to see it grow into one of the biggest strength contests in North Carolina next year, with a goal of raising even more money for the Shriners Hospitals for Children.


###



Want to comment on this article or just want to talk strength? Join the IronMind Forum!

You can also follow IronMind on Twitter.