Eric Dawson Hits a Homer at SCL Debut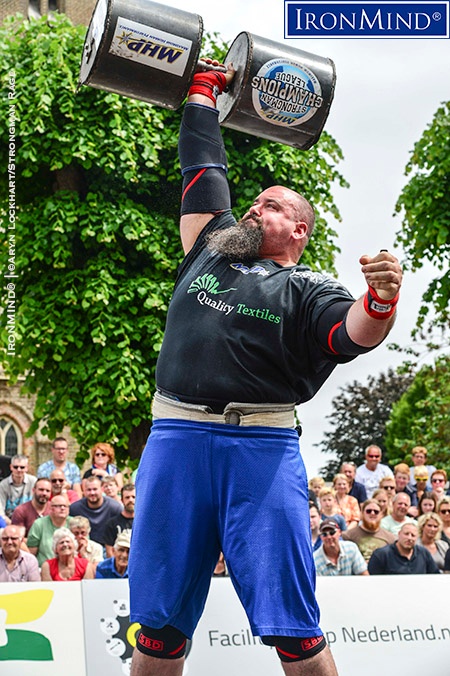 Eric Dawson (USA) didn't waste any time in his first appearance in the MHP Strongman Champions League (SCL)—he knocked it out of the park and claimed his first SCL victory.


Eric Dawson wins Strongman Champions League Holland

By Aryn Lockhart – Strongman Rage

Stage four of the MHP Strongman Champions League in Holland was the 100th competition in SCL for Marcel Mostert and Ilkka Kunnen. This epic competition came with quite a few surprises. The newcomer, Eric Dawson (USA), competed in his first Strongman Champions League and shocked everyone to take the win. With 14 strongmen from all over the world, Eric left quite an impression. This year's competition saw numerous injuries from the original line-up preventing them from competing. Nevertheless, the field was strong and the capacity-filled audience kept the athletes battling to the finish.

The first event was the truck pull with only a harness. The initial start of the Truck Pull was tough requiring full power to get the first centimeters of motion. Eric Dawson took first with 33.98 seconds. Alex Moonen was a close second with 35.31 seconds and Holland's strongest man, Jitse Kramer, took third with 38.35 seconds.

Event two was the Giant Dumbbell. With 90kg, the athletes found their rhythm and made it look easy. Each athlete had their own technique for this event. As the dumbbell fell to the ground with a resounding thud, it was an impressive reminder of the sheer weight being moved with one arm. In the last seconds, Eric Dawson, completed ten reps to take the win. Alex Moonen, Marius Lalas, and Aaron Page all finished the event with nine reps.

Event three was the Front Hold. With 15kg in each hand, this weight became excruciating as athletes worked through their muscles shaking to hold just a few more seconds. With his impressive shoulder strength, Bjorn Andre Solving won this event with 50.07 seconds while Alex Moonen and Grzegorz Szymański finished with 41.56 seconds.

The fourth event was a unique loading race that took athletes to their limits. Athletes were required to load two 100kg textile rolls into a metal frame and then pulling that frame to the finish line. The intense combination of both strength and cardio kept six athletes from finishing. Impressively Jitse Kramer was first with 1:07, Eric Dawson took second with 1:08 and Dainis Zagaris completed the course with 1:10.

The fifth event of the day was the Tire Flip. Eight flips in total. Once again Holland's strongest man, Jitse Kramer, won this event finishing in a lighting fast 30.27 seconds. Second place was another Hollander Enzo Tauro who finished in 33.70 seconds. Third place in this event was Marius Lalas completing in 33.97 seconds.

At the end of the fifth event, Eric Dawson had only a one point lead over Alex Moonen. The Atlas Stones would determine the day's winner. With the stones ranging in weight from 120kg to 180kg, the greatest challenge of this event was the varying heights. The first platform was taller than many of the athletes themselves. Jitse Kramer impressively won this event with 23.62 seconds. JF Caron completed the course in 25.59 and Eric Dawson took third in the event with 25.94 seconds. His placement secured his first Strongman Champions League win.

After the competition, I sat down with both Eric Dawson and Alex Moonen to talk about the day's competition.

In only his third international competition, Eric Dawson left a lasting impression amongst his competitors. With this quiet, but friendly demeanor, he simply did what he knows best and had an amazing competition. "Realistically, I didn't think I'd win. The events just lined up for me," stated Dawson. "I had no mistakes and I was happy about that."

Dawson was excited to receive the invitation to SCL Holland and remarked upon how well the event was organized and the energy of the crowd. He also talked about how he had never competed in the front hold and found it to be challenging in a different way. "I started shaking early, but I held on."

Despite taking second, Alex Moonen was happy with his results. He gave everything and didn't make mistakes. This was his first second place finish in the Strongman Champions League. He has three third place finishes and he's anxious to get his first win. "Today was full of crazy, mixed emotions, but we battled to the end," said Moonen. Alex talked about feeling gutted that he simply burned out during the Sled Pull, but he was very pleased with his performance in the Truck Pull. When I asked him about Eric Dawson's performance, Alex stated, "I think everyone was surprised with how well Eric performed. He has strength and endurance. He's the full package and he showed everyone today."

Final Results
1.    Eric Dawson  - USA - 69
2.    Alex Moonen - HOLLAND - 65
3.    Marius Lalas - LITHUANIA – 62.5
4.    Jitse Kramer - HOLLAND – 60.5
5.    JF Caron – CANANDA – 57.5
6.    Enzo Tauro – HOLLAND – 52.5
7.    Bjorn Andre Solvang – NORWAY – 44.5
8.    Lauri Nami – ESTONIA – 41.5
9.    Andreas Altmann – GERMANY – 40.5
10.    Aaron Page – ENGLAND – 31.5
11.    Nemo Tasic – AUSTRIA – 23
12.    Dainis Zagaris – LATVIA - 21
13.    Bedo Hachikian – BULGARIA - 15
14.    Grzegorz Szymański - POLAND - Injured

Stay tuned: this coming weekend, the MHP Strongman Champions League continues with stage 5 in Latvia.

                                                      ###


You can also follow IronMind on Twitter and on Facebook.                        



Want to talk grip, strongman, weightlifting . . . everything strength? Visit the IronMind Forum.