Eirik Bruun Ingebretsen Certifies on the Captains of Crush No. 3 Gripper
"Closing a milestone gripper like #3 [Captains of Crush No. 3 gripper] is not just a proof of strength: It shows discipline and determination more than anything," Eirik Bruun Ingebretsen told IronMind, and he should know, because he has just been certified as doing exactly that.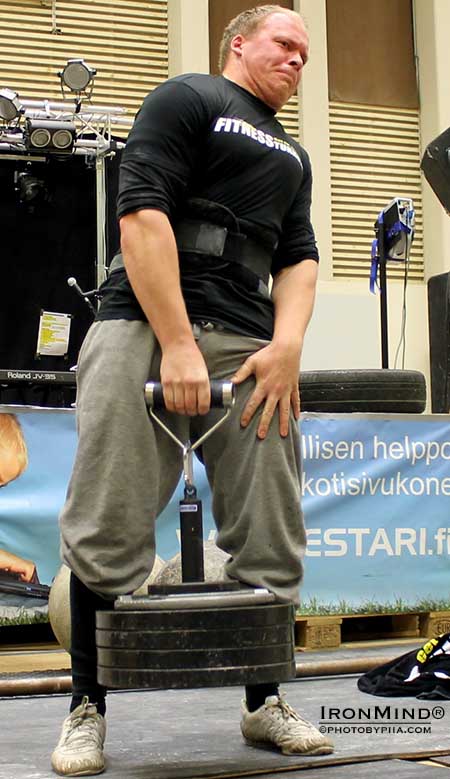 Eirik Bruun Ingebretsen, now certified on the Captains of Crush No. 3 gripper, also competes in other grip strength events such as the Rolling Thunder. IronMind® | ©photobypiia.com


"I do not quit before the job is done. My parents taught me that," he continued, echoing the spirit of patience and persistence that so often prove to the keys to victory when it comes to mastering this world standard for grip strength.

Eirik is 27 years old and he said he does "regular strongman training and competes in the 105-kg strongman class. I've won national championships in the farmer's walk (+400 lb. in each hand) Rolling Thunder® and other grip events. I also want to focus on Mas wrestling."

Strongman is what brought Eirik to Captains of Crush grippers and grip strength training: "My strongman coach, Knut Bjorvatn, had a complete set lying around, so I tried them. Closed the No. 1 the first time [I tried them]." 

Added to this, Eirik's grip strength got plenty of on-the-job-training as he said, "I work in a shop that sells building materials, so I lift bags of cement and 2 x 4s all day long."

Well, Eirik, the wisdom of your parents was not lost on you and IronMind is proud of your accomplishment as well: Congratulations because you have just been certified on the Captains of Crush No. 3 gripper!

Special thanks to Jyrki Rantanen for serving as the referee on Eirik's official attempt to close a Captains of Crush No. 3 gripper. Rantanen had reported to IronMind, "Eirik Bruun Ingebretsen just did a very good certification close with No. 3 under my surveillance—it was easy work to be the referee as along with good visibility there was sound proofs also. I´m sure Eirik is soon doing also 3.5 :)"

###



Want to talk strength? Join the IronMind Forum.

You can also follow IronMind on Twitter and on Facebook.