Edgin, Snodgrass, Ruby Take All at California's Strongest Hands
"At the base of the Santa Cruz mountains, among centuries-old redwoods, California's Strongest Hands and Mas Wrestling Tournament took place last weekend at Santa Cruz Strength," promoter Clay Edgin reported to IronMind.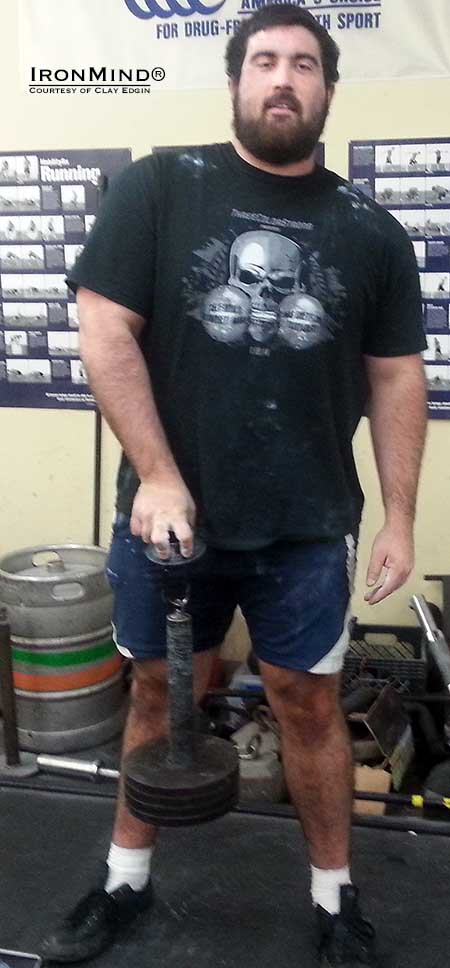 Steve Ruby completing the Hub Lift portion of the Crushed-To-Dust® Challenge, an all-around test of grip strength.  IronMind® | Photo courtesy of Clay Edgin


Edgin, Snodgrass, Ruby Take All at 2014 California's Strongest Hands
by Clay Edgin

Sixteen competitors from as far away as San Diego and Chico converged on Surf City on Saturday to duke it out for the prestige of the podium and IronMind gift certificates. When the dust settled, three athletes emerged victorious in their respective divisions.

Amanda Edgin, running unopposed in the women's division, lifted several personal records on her way to a strong finish. This was Amanda's first venture into strength athletics and she will be competing at the Los Angeles Fit Expo in Odd Haugen's Vise Grip Viking Challenge and All American Mas Wrestling Championships next weekend as well.

Joel Snodgrass, a last minute entrant from Chico, took top honors in the under 90-kg division with a performance which included a 155-kg double overhand IronMind Apollon's Axle deadlift. Jacob Ward of Chico and Tyler Miller, who recently certified on the Red Nail, rounded out the top 3.

In the heavyweight class, 6'7 370-lb Stephen Ruby of Fresno won all five events. His 39.89 second IronMind CoC Silver Bullet Hold with a Captains of Crush No. 3 gripper proved that this newcomer to grip contests has quite a formidable crush. John Machnik of Fresno took second place, with Riccardo Magni securing the third spot.

In the mas wrestling tournament that followed the grip contest, Amenah Razeghi of Santa Cruz won the women's class, beating Amanda Edgin 2-0. Both ladies are looking forward to a rematch next weekend at the Fit Expo.

Snodgrass again pulled his way to the top of the heap in a very talented field of 6 mas wrestlers under 90 kg. Second place went to Robert Lira of Gilroy, who gave up 15 lb. in bodyweight to Snodgrass ,but used his tenacity to best the champion in one of the three rounds. Tyler Miller, who trains at the host venue, took third place in the mas tournament.

Proving he is a force to be reckoned with in mas wrestling despite his inexperience, Ruby again plowed through the competition in an undefeated run towards the number one spot. James Richards made a great showing for second place and John Machnik took third.

Not content with finishing first in both contests today, Stephen Ruby went on to complete the IronMind Crushed-to-Dust® Challenge—closing a Captains of Crush No. 2 gripper with ease, lifting 200 lb. in plates on the Rolling Thunder, and deadlifting 40 lb. on the IronMind Hub, and his name has been added to the official Crushed-to-Dust certification list.

                                                           ###



Want to talk strength?  Join the IronMind Forum.
 
You can also follow IronMind on Twitter and on Facebook.