Eddie Brown Wins the Phoenix Highland Games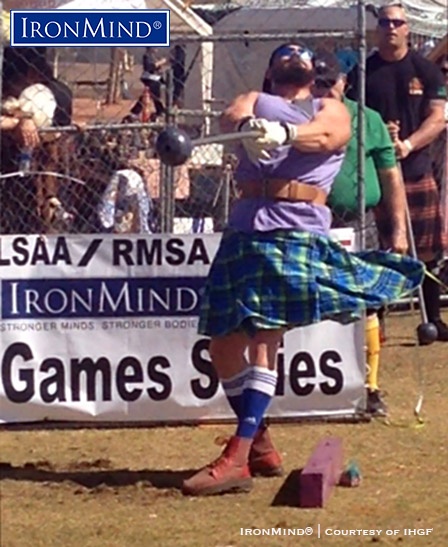 Eddie Brown won the second leg of the IHGH All-American Highland Games series in Phoenix, Arizona and IHGF president Francis Brebner called the action for IronMind.

2018 Phoenix Highland Games
by Francis Brebner
IHGF President

The Phoenix Highland Games celebrated its 54th year of consecutive games with a lineup of 115 athletes across several classes, cheered on by several thousand spectators as ground and world records tumbled.

The A division was the second leg in the IHGF All-American Highland Games series and included heavies Chad Thompson, Eddie Brown, Andrew Heaton, Anthony Clinker, Kalab Barter, Michael Pfeiffer, Bryan Staggs, and Matthew Steele. 

In the 23-lb. Braemar stone put, Brown led in every round, winning with a putt of 38' 2-1/2". A close tussle for second ended with Heaton pulling ahead at 36' 7-1/4" to Clinker's 36' 2".

Heaton secured his first victory in the 16-lb. open stone with a best of 46' 3-3/4". In second was Brown at 45' 10", with Thompson in third at 42' 6-1/2".

In the 28-lb. weight for distance, Thompson was the only athlete to achieve a throw over 70', winning with a best of 72' 11". Brown followed at 69' 9-3/4", with Heaton in third at 65' 1-3/4".

Heaton notched up his second win in the 56-lb. weight for distance with a throw of 37' 1-3/4", but not after a hard-fought battle with Thompson, who placed second with 36' 9". Brown took third with 35' 6".

In the 22-lb. hammer, Brown, Heaton, and Clinker went all out from the first round, a real ding-dong battle, with Brown claiming the win with a throw of 88' 6"; Clinker was second with 87' 9" and Heaton third with 87' 6-1/2".

Brown had another victory in the 16-lb. hammer with a throw of 113' 3-3/4" to Clinker's 109' 9-1/4" and Thompson's 104' 5-3/4".

The 56-lb. weight over bar was an impressive show by Brown, who cleared 16' for the win, with Heaton second at 15' and Thompson third at 14'.

The 20-lb. sheaf toss ended in a several-way tie with all but Steele clearing the height of 23'.

The caber toss was for the IHGF All-American Caber Tossing Championships, and the stats on the caber were 20' 2" and 89 lb. Clinker won on countback with tosses of 11:58 and 11:30. Heaton did 12:02 in a close second place, and Brown 12:15 for third.

Overall placings

1. Eddie Brown
2. Andrew Heaton
3. Chad Thompson
4. Anthony Clinker
5. Matthew Steele
6. Bryan Staggs
7. Kaleb Barter
8. Michael Pfeiffer

In all, the games were fantastic and the athletes in top form. Karl Gehrke, in the men's lightweight division, established 7 ground records, and in the woman's lightweight A class, Anniki Chamberlain set 2; in the women's masters 60-plus division Michelle Crownhart set a new world record in the heavy hammer and in the masters 50-plus division, Mona Malek set two new world records, in the weight over bar and the heavy weight for distance.

The IHGF would like to thank Michelle Crownhart for hosting the second leg of the IHGF All-American qualifying series and acknowledge the first-class games that she and her crew put on. The next games in the IHGF All-American Highland games qualifying series will be the Las Vegas Highland games on 14–15 April 2018.

Special mention must be given to Texas pro athlete Spencer Tyler, who, that same weekend in Columbus, Ohio at the Arnold Classic Highland games, had an all-round world-class performance and set three new indoor world records: the 56-lb. bag/ball for distance at an incredible 51' 1/2", the 56-lb. weight over bar at 19' 3", and the 18-lb. rubber shot open stone for a distance of 57' 9-1/4".

                                                ###



You can also follow IronMind on Twitter, Instagram and on Facebook.                        



Want to talk grip, strongman, weightlifting . . . everything strength? Visit the IronMind Forum.