Eagle Loops: World Record Deadlift?
Weighing 231 pounds, Rick Walker pulled a 750-pound deadlift with a pair of IronMind Eagle Loops - he wondered if it might be a world record, and while we can't confirm that it's the highest number out there, it is the biggest lift we know of . . . by far.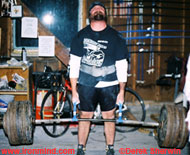 So much for the idea that this would be a painless alternative to a classic finger lift, because Rick Walker said "the pain in my fingers was tremendous," but that didn't keep him from finishing the 750-pound Eagle Loops deadlift. IronMind® | Derek Sherwin photo.

"I have yet to see anyone else come close to this type of poundage with the Eagle Loops to date," Walker said, "and I could make a case of this being a world record, or close to it. I think this is certainly not due to a lack of strength as many a man has a stronger grip than I, but rather a lack of wanting to endure that kind of pain and punishment. That unique ability to withstand pain puts me in a class by myself, and you can be sure that 800 and more will ride in due time."

IronMind® is not encouraging self-destruction, but we would be interested in hearing if anyone has done more on this lift, and from the sound of things, we might have a modern day Jack Walsh here.