Dublin (Ohio) Irish Festival: Highland Games Heavy Events Shine
The colossal Dublin Irish Festival continued its tradition of putting the Highland Games heavy events front and center—Francis Brebner was the field and he has called the action for IronMind.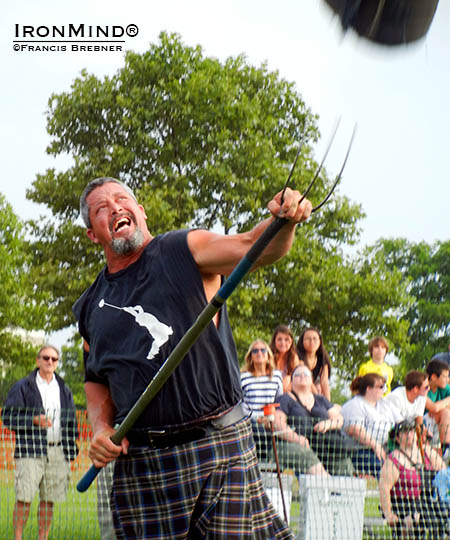 Highland Games masters' competitor Bradie Miller turned in an outstanding performance at the Dublin Irish Festival, including a world record in the 16-lb. sheaf toss. IronMind® | Photo courtesy of Francis Brebner


2014 Dublin Irish Festival
by Francis Brebner
CEO, International Highland Games Federation

The Dublin Irish Festival, which takes place in Dublin, Ohio, is the second largest festival in the world and is rapidly growing each year. The festival celebrated its 27th year, with more than 100,000 spectators on hand to experience the energetic atmosphere of festivities which lasted for several days, on 7 stages, with 65 acts and over 500 performers. The sheer size of the festival is astounding, and each year more acreage is added, now covering 38 acres in Coffman Park.

An epic event with something for everyone, a festival highlight was the kids' Celtic games, with droves of youngsters getting in on the action with the tossing of mini-cabers, putting stones and tossing the sheaf over the bar. Even the mums and dads tried their hand at throwing for the first time, and one family had three generations giving it a go, with a grandma over eighty years as well as her daughter and granddaughter tossing the caber.

Athletic director for the Dublin Irish Festival and president of the Great Lakes Scottish Athletes Association Brian Huntley and his crew did an exceptional job of making the Highland Games a huge success once again, with everything running like clockwork. Thousands of spectators crowded the arena and really got behind the throwing events from start to finish.

Four athletic groups, consisting of amateurs A and B, masters, and women, competed. In the masters (over 40 years old), Braidy Miller put up an outstanding performance, establishing a new world record of 39' in the 16-lb. sheaf over bar, shattering his old record of 38' 4". Braidy later attempted a very close 40'. Other results from Braidy were over 82' in the 28-lb. weight for distance and over 111' in the heavy hammer. Brother Brent Miller put up a fantastic all-round performance, winning the masters 16-lb. open stone with a putt of over 51' and attempting a world record 20' 8" in the 42-lb. weight over bar.

In the A group, spectators enjoyed a great competition that got better and better from start to finish between Sean Urquhart, Jason Thomas, Jamie Baker, Ryan Stoltz, Jason Kaye, Malcolm Majeski, Brandon Crawford, Nate Baker, and Dave Marble.

Urquhart took the first win in the 16-lb. open stone with a putt of 47' 5-1/2", and with extra attempts upped that mark to 47' 6". Second place was Parker with 43' 1" and third Majeski at 41' 3".

In the 56-lb. weight for distance, Urquhart took the reins in the first round by over a meter and was in a realm of his own with a winning throw of 36' 11". Thomas edged out J. Baker for second place, 33' 6" to 32' 8".

Urquhart kept up his winning streak in the 28-lb. weight for distance with a series of throws just over 70', his best being 72' 9". Again, in a tight skirmish for second, J. Baker edged ahead with 65' 7" to Thomas's 63' 9".

In the 22-lb. heavy hammer, Thomas stepped ahead of Urquhart with a triumphant throw of 92' 9", followed by Urquhart at 90' 11" and Crawford at 77' 10".

The caber was 19' 8" in length and 110 lb., and Thomas nailed the victory with three tosses, one a perfect 12 o'clock. In second, Marble slammed one toss, also a perfect 12 o'clock; third was J. Baker at 10:30.

Urquhart regained control in the 56-lb. weight over bar at a winning height of 15'. Thomas was second at 14', with J. Baker third at 13'.

The finale was the 16-lb. sheaf event, and Thomas wowed the crowds with a first-class throw of 35'; Urquhart did 32' for second and J. Baker 30' for third.

Overall
1. Sean Urquhart 12
2. Jason Thomas 17
3. Jamie Baker 21

###



Want to talk strength? Join the IronMind Forum.

You can also follow IronMind on Twitter and on Facebook.