Athens – Going into tonight's competition, Bulgarian weightlifter Milen Dobrev seemed invincible in the men's 94-kg category, and he did win the gold medal everyone predicted, but nobody would have guessed that he would be pushed by a Russian junior, Khadjimourad Akkaev, who most people had never heard of before.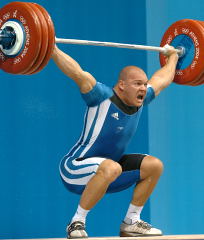 Milen Dobrov on the way back up with his go-ahead 187.5 kg snatch. IronMind® | Randall J. Strossen, Ph.D. photo.

This class had some big bombouts, starting with Nizami Pashaev (Azerbaijan) going out with 180 in the snatch—he almost seemed to feed the last missed lift to the center referee, as the bar came off the platform, went across the stage, over the barrier and one end landed next to the unruffled center referee.
Even if their misses weren't this dramatic, 180 kg really sorted things out, and only five lifters made it to that weight or higher. Dobrev had three smooth successes in the snatch, ending at 187.5, only one-half kilogram below the world record. Akkaev tried the same weight, which would have been a new Junior world record, but missed it, and that was an miss he could ill afford against the Bulgarian powerhouse. The other Russian lifter in this class, Eduard Tjukin, also acquitted himself well, hitting a nice 182.5 on his second attempt, before missing 185.

Dobrev established his gold medal position with his first clean and jerk, 217.5 kg, and never relinquished it. He went on to hit 220 on his second attempt, and probably could have made the 225 he took on his third attempt if he had needed it. In a heartbreaker, three-time Olympic gold medalist Akakios Kakiasvilis tried 220 kg three times in an effort to get the bronze medal, but each time, he just couldn't stand with the weight. Akkaev, who had missed the jerk on 220 on his second attempt, came back for a hard fought success on his third, to his great delight.