Dmitriy Khlyuzov Certifies on the Captains of Crush No. 3 Gripper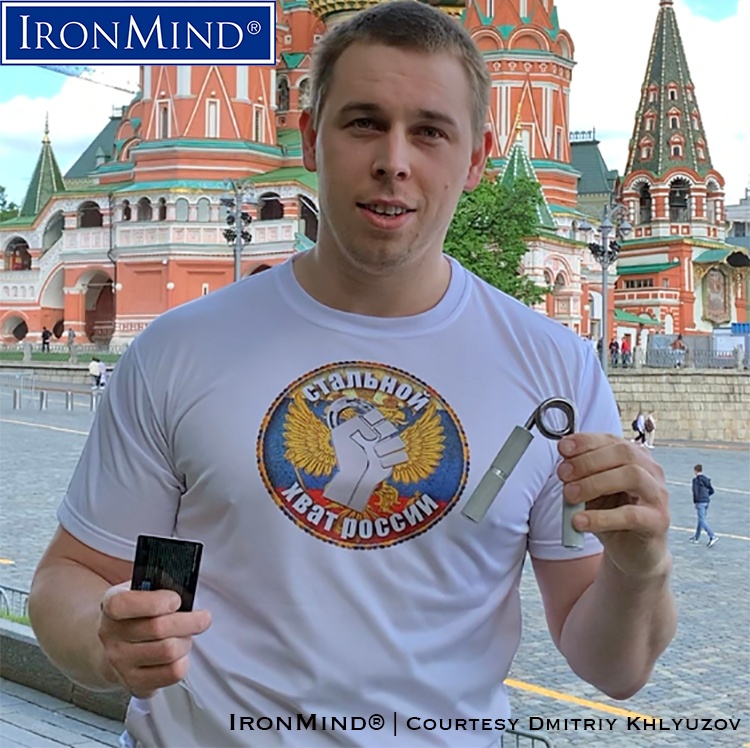 Quite possibly the most widely recognized demonstration of world class strength, officially closing the Captains of Crush No. 3 gripper provides membership to an elite club: congratulations to Dmitriy Khlyuzov, (Russia) who has just been certified, and is now the club's newest member.
Dmitriy Khlyuzov (Russia), who works "in the field of aviation and space security," has just been certified on the Captains of Crush No. 3 gripper—officially giving him international bragging rights for having a world-class grip. IronMind® | Courtesy of Dmitriy Khlyuzov
Khlyuzov said that he learned about IronMind and Captains of Crush (CoC) grippers from a friend and he closed a CoC No. 2.5 gripper on his first try.
Grip strength is "mostly my hobby, but a strong grip also helps in my work," said Khlyuzov, an aviation and space security specialist.
"I practice on horizontal bars and [train] a little in the gym. I have been doing gripper [training] since August 2020 and it has become one of my favorite things and hobbies. I want to try other exercises that strengthen the grip. I play the guitar, and try to learn English and Spanish!," Khlyuzov said.
30 years old, 186 cm tall (about 6' 1") and weighing 102 kg (about 225 lb.), Khlyuzov is single, "so no children . . . In 2021 I plan to close the CoC No. 3.5 gripper and get certified, and I hope to master the CoC No. 4. Thank you for the quality gripper provided."
Follow this link to the video of Dmitriy Khlyuzov's official attempt to close the Captains of Crush No. 3 gripper.
Based on his performance and his goals, IronMind's prediction is that we will be hearing more from Dmitriy Khlyuzov and for now, congratulations: your name has been added to the official certification list for the Captains of Crush No. 3 gripper.
###



You can also follow IronMind on Twitter, Instagram and on Facebook. 



Want to talk grip, strongman, weightlifting . . . everything strength? Visit the IronMind Forum.