Dmitriy Hunkin Certifies on the Red Nail™
Dmitriy Hunkin has just been certified on the IronMind Red Nail–the first man ever in the Ukraine to achieve this distinction in steel bending.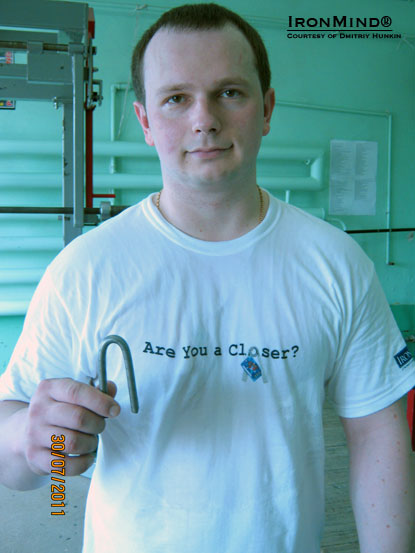 It's official: Dmitriy Hunkin has just been certified on the IronMind Red Nail–making him the first Ukrainian to qualify as a member of this distinguished group of short-steel benders. IronMind® | Courtesy of Dmitriy Hunkin.


"Since childhood I am fond of different circus athletes' feats of strength," Dmitriy told IronMind. "One of my favorite books was Iron Samson, about Alexander Zass, the legend of all strength history."

Well, Dmitriy just made a little strength history himself with this official bend, and this might well only be the beginning for the 30-year old IT specialist. Dmitriy said that he wants to certify on on the Captains of Crush No. 3 gripper and continue with his bending as well: "Bending helps to discover and develop myself and my limits."

Congratulations Dmitriy, your name has been added to the Red Nail Roster, the official list of men certified on the IronMind Red Nail. Also, IronMind would like to extend its particular thanks to Sergiy Ryzhuk for serving as Dmitriy's official referee, whose help made this official attempt possible.

###

The IronMind Forum: discuss this article, talk strength, get help with your training.

You can also follow IronMind on Twitter.