Dimitar Savintinov Wins the Odd Haugen Strongman Challenge
"The Odd Haugen Strongman Challenge went well," Dione Wessels reported to IronMind, "and there were some PR performances made by many of the guys."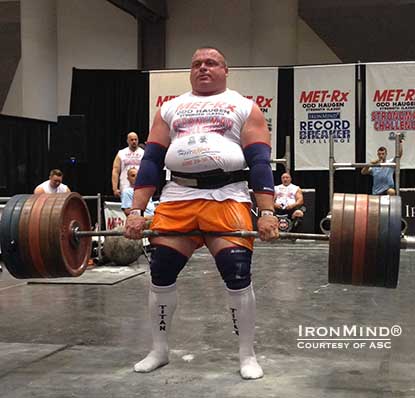 Dimitar Savatinov on the 660-lb. deadlift for reps at the Odd Haugen Strongman Challenge this weekend at the NorCal FitExpo. IronMind® | Photo courtesy of ASC.




"Dimitar Savatinov came out of the gate winning the 305-lb. Axle Clean and Press with 7 repetitions, then winning the 805-lb. Wheelbarrow Medley and was the only athlete to complete the event! 



"Following the Wheelbarrow, he won the 660-lb. Deadlift with 9 repetitions! The 915-lb. Super Yoke was won by John Posen, with Dimitar taking second. The last event was the 375-lb. Atlas Stone over the bar. Newcomer Casey Garrison of California won with 8 repetitions. 



"The overall winner of the event and the newest ASC pro is Dimitar Savatinov from Bulgaria, via Florida. The top five athletes were Dimitar, he finished with 63 points, Steve Schmidt 59, Casey Garrison 53.5; Sean Demarinis, 52pts; John Posen 50pts; 2nd - 5th qualified for the NAS national championships in October and Dimitar will be competing against many of America's top strongmen at the MHP America's Strongest Man in Vegas at the Mr. Olympia in late September.

###



Visit the IronMind Forum: talk strength, discuss this story. Strongman, grip, Highland Games, Olympic lifting, stones and more.

You can also follow IronMind on Twitter and on Facebook.