Derek Poundstone Levels the Field at the Mohegan Sun
Coming into the debut of the Giants Live tour, Derek Poundstone told IronMind® that he thought he could win every event at the Mohegan Sun - in the end, only Travis Ortmayer stopped that prediction from coming true.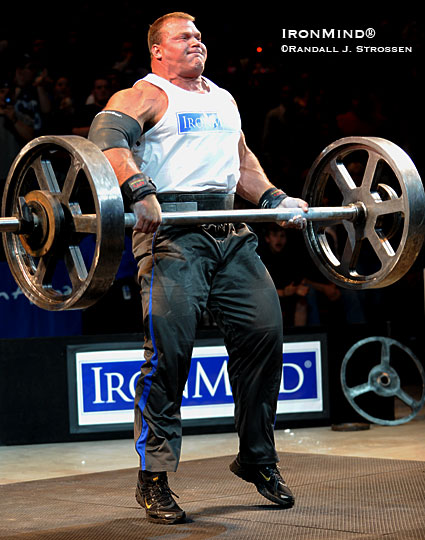 Using a reverse grip to continental the unwieldy weight, Poundstone then pressed this 414 pounds for a new world record on the IronMind® Apollon's Axle™. Presenter Colin Bryce called it the highlight of the contest and said that he wished there had been a decibel meter to measure the crowd's response as they roared for Poundstone as he made this lift. IronMind® | Randall J. Strossen photo

Poundstone is developing a history of making bold predictions about his performances at the Mohegan Sun and then backing them up. Last year, he said that he was the man to beat Mariusz Pudzianowski, and that's just what he did. This year, coming in heavier, stronger and in better condition, Poundstone was something of a runaway train - rolling through the events and looking like nothing in his path could slow him down.

In the end, though, on the last stone on the last event, it was Travis Ortmayer who did not one, but two things that nobody else had done: Ortmayer loaded all five Atlas stones and he beat Poundstone on an event, leaving him with a five-for-six day.

Here are the top eight and their final points:

1. Derek Poundstone 59 points
2. Travis Ortmayer 51.5
3. Brian Shaw 39
4. Louis-Philippe Jean 39
5. Johannes Arsjo 32
6. Mikhail Koklyaev 28
7. Mark Felix 25.5
8. Terry Hollands 22.5

Poundstone, Ortmayer and Shaw qualified for the 2009 World's Strongest Man contest by virtue of their top three finishing positions.