Dennis Kohlhaus Wins IHGF Stones of Strength World Challenge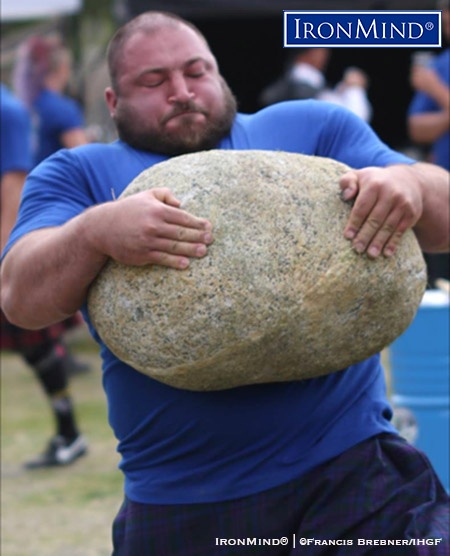 "Looking bigger and stronger than ever," Dennis Kohlruss (Germany) defended his IHGF Stones of Strength title at the Fefor Hotel in Norway, IHGF president Francis Brebner reported to IronMind.


2017 IHGF Stones of Strength World Challenge: Kohlruss Defends Title
by Francis Brebner
International Highland Games Federation (IHGF)

The IHGF Stones of Strength World Challenge, held on the grounds of the wonderful Fefor Hotel, Vinstra, Norway, in the sports arena overlooking Loch Fefor, was a riveting competition from start to finish. Nine strength athletes from eight countries went head to head in five stone lifting events. This year's lineup included: Mike Salter and Nick Romero, both USA; Austin Sztajdocher, Canada; Tibor Kiss,  Hungary; Luke Reynolds, Australia; Dennis Kohlruss, Germany; Oleksandr Lashyn, Ukraine; Tomas Sido, Slovakia; and Johan Longhurst, Netherlands.

Kohlruss, the defending champion, came into the competition looking stronger and bigger than ever at a bodyweight of 365 lb.; he had dedicated months of preparation to this year's challenge and wasn't going to give up his title easily. Another impressive strength athlete was Reynolds, a two-time winner of the Australian Stones of Strength Championships; standing 6' 6" and 340 lb., he looked a force to be reckoned with. Longhurst was another strong contender for the title, although one of the lightest at only 250 lb., and overall one of the fastest and most explosive of the athletes. The dark horse was Romero, who had qualified to compete through an IHGF stones qualifier in the USA and like Kohlruss, had spent months in preparation and was hungry for the title.         

The first event, the 50-lb. stone throw, was done from behind a trig with an approach of three m and thrown freestyle with one or both hands. The lead changed several times, but in the end Kohlruss claimed the first win of the competition with a best of 22' 8", marginally ahead of Longhurst at 22' 5-1/4". Romero was third at 20' 9".

In the 230-lb. stone press, athletes had 75 sec. to complete as many reps as possible from the ground to overhead. Kiss took the early lead with an impressive 3 reps but this was short-lived as both Kohlruss and Reynolds did 4. Romero, who had the advantage of going last, seized the opportunity and knocked out 5 reps for a triumphant win, which was acknowledged by handshakes all around from his fellow rivals.   

Moving on to the Fefor stone carry, athletes picked up and carried the Fefor stone, weighing a colossal 160 kg, up and down a course of 20 m for max distance, an event where the biggest of the athletes prevailed. Romero took off at a brisk pace to set the mark to beat at 29.26 m. Reynolds came close with 27.71 m—and then only Kohlruss was left to go. All eyes were on him as he set off like a runner, and cheered on by the crowd, surpassed Romero with a distance of 34.35 m for the win.

In the stone medley, speed and agility came into play as the athletes had to lift and carry a series of natural stones, weighing 195, 230, 235, and 260 lb., over a course of 7 m. Longhurst  looked totally focused as he knew this was an event he had a good chance of winning and gaining max points—and that's exactly what he did, setting a fast time of 23.88 sec. Kohlruss gave his all for such a big man and managed a time of 29.99, good enough for second place; in third was Kiss with 31.06.

It all came down to the final event of the competition, the Atlas Stones, ranging from 220 to 400 lb., and the athletes had 75 sec. in which to place all five stones onto the barrels in the fastest time. Only 2 points separated the top two athletes: Kohlruss was in the lead on 9 points and Romero on 11, with Longhurst in third on 19. One athlete reigned supreme: Longhurst lifted all five stones in an incredibly fast time of 24.94 sec. Several athletes managed four stones, and only a few seconds separated Kiss at 14.21 sec. and second place, and Lashyn at 16.37 sec. for third.

Overall
1. Dennis Kohlruss (Germany)    10.5
2. Nick Romero (USA)    16
3. Johan Longhurst (Netherlands)    20
4. Tibor Kiss (Hungary)    21
5. Luke Reynolds (Australia)    24.5
6. Oleksandr Lashyn (Ukraine)    24.5
7. Austin Sztajdocher (Canada)    35.5
8. Mike Salter (USA)    36
9. Tamas Sido (Slovakia)    42

For Kohlruss, it was a sweet but hard-fought victory. Romero, competing in his first IHGF Stones of Strength World Challenge, put up a great all-round performance for second place overall.

                                                        ###



You can also follow IronMind on Twitter, Instagram and on Facebook.                        



Want to talk grip, strongman, weightlifting . . . everything strength? Visit the IronMind Forum.