Strasboug - Battling his teammate Ara Khachatryan every step of the way, Gevorg Davtyan (Armenia) won all the marbles in the men's 77-kg category at the European Weightlifting Championships tonight.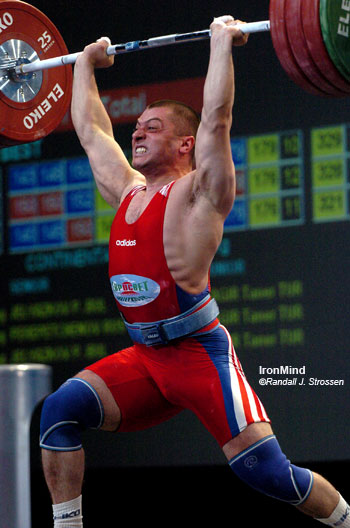 Gevorg Davtyan (Armenia) hits this 197-kg clean and jerk to complete his sweep of the 77-kg gold medals at the European Weightlifting Championships tonight. IronMind® | Randall J. Strossen, Ph.D. photo.

Turkey's Taner Sagir was a podium favorite tonight, but after opening with 160 kg in the snatch and then missing 164 twice, he lost too much ground to be in the hunt for gold. Khachatryan sailed through three good snatches - 159, 163 and 165 - but Davytan, who had made 163 on his opener and then missed 165 on his second attempt, moved up to 166 on his third attempt, in a bid for the lead. He made a good lift, but with nothing to spare.

The competition hall was rocking with enthusiastic Armenian and Turkish fans, there to support their lifters full force, and Khachatryan was the first of the leaders to post a clean and jerk, a good opener with 191 kg. Sagir took 193 kg on his first attempt, but he was blown out the back trying to rack the weight and looking as if he had jammed his leg, he limped off, but came back to make a tough success with the same weight on his second attempt. Kachatryan made a solid second attempt with 194, once again power jerking the weight, and for his third attempt he made 196 kg with a lift that was never in doubt - for the lead in the jerk and in the total. The Armenian fans erupted in celebration, but more was coming to make them happy as Davtyan, who had made 193 and 195, called for 197 kg on this third attempt, aiming for the gold medals in the jerk and the total, and he made a good lift. Taner passed on his third attempt.

Also noteworthy was the return of Zlaten Vanev (Bulgaria), back from three broken arms, and although he was not in top form, he was strongly supported by his fans who were happy to see him make 141/190.

Earlier, in the women's + 75-kg category, Olha Korobka (Ukraine) was the big news: Tipping the scales at 164.57 kg, Olha is now within a few pommes frites of Hossein Rezazadeh's PR bodyweight at the Olympics and the World Weightlifting Championships! Another way to get a sense of the gravity of this situation is to consider what Hossein Rezazadeh has weighed recently and then to realize that if Olha Korobka matched him on the lifts, Hossein Rezazadeh would still get the win - on bodyweight.

Anyway, putting that mass in motion, Korobka snatched 122, 127 and then 133 - the last lift being a new senior European record. Things did not go so smoothly in the clean and jerk, even though after her opener, 153 kg, the feeling was that Korobka was poised to squash the continental record. Instead, she couldn't stand up with 160 kg on her second attempt, but bouncing back on her third attempt, although not massively easy, she made a good lift with the weight.