David Rigert: It's Chigishev
Ending speculation about who the Russian team would be entering in the +105-kg category at the European Weightlifting Championships next month, national coach David Rigert told IronMind® that Evgeni Chigishev is the man.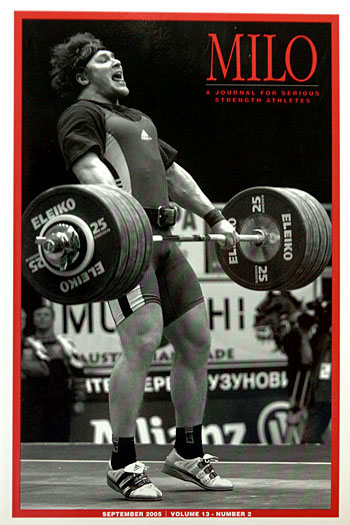 "Competing at the 2005 European Weightlifting Championships, Evgeni Chigishev (Russia), weighing a little under 122 kg, snatched 205 kg like a hot knife cutting through butter . . . He also cleaned and jerked this 242.5 kg . . . " IronMind® | Randall J. Strossen, Ph.D. photo.
Chigishev, a MILO cover guy and poster boy whose lifting credentials include some of the most searing snatches you will ever see, silenced the partisan crowd at the 2005 World Weightlifting Championships when, amidst a chorus of boos from the Iranians there to support their hero Hossein Rezazadeh, the far-outweighed Chigishev smoked a 210-kg snatch for the gold medal . . . His lift itself and his subsequent look to the crowd are indelible memories for all weightlifting fans lucky enough to have been in Doha that day.

Mikhail Koklyaev, while highly touted in IFSA strongman circles as a top weightlifting prospect for the Beijing Olympics, has yet to do big lifts in a major, drug-tested contest, and while Rigert told IronMind® that Koklyaev trains with strongmen, not the Russian national weightlifting team, he added that the 2008 Olympics are still a long way off.