Daniyar Ismayilov Dominates the 69s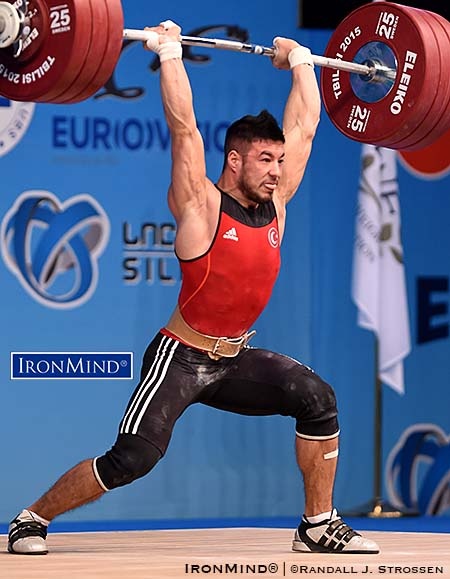 Tbilisi—Continuing his push to the top, Daniyar Ismayilov (Turkey) posted a world class 337-kg total to win the 69-kg category at the European Weightlifting Championships.

Bernadin Matam, the muscular French weightlifter who often seems to be fighting the bar, made three good snatches, to end up with 146 kg. Opening at 147 kg, Daniyar Ismayilov (Turkey) made an easy, easy first attempt, and followed with 152—again, he got the bar overhead easily, but this time he had to walk forward a couple of steps to control the weight, but the lift was never in doubt. Showing that adjustments were not to be expected, he stuck 156 kg on his third attempt, giving him a 10-kg lead going into the clean and jerk.

After making their initial attempt or two in the clean and jerk, the race to move up the ladder began. Vanik Avetisyan (Armenia) racked 180 kg, but could not stand up with it. Matam moved to 181 kg on his second attempt, cleaned the weight, but then missed the jerk overhead and behind. Ismayilov, who was the man everyone was chasing, dropped the hammer by making 181 kg on his third attempt, 11 kg over his opener and a 6-kg jump from his second attempt. Mattam had the last attempt of the class and repeated with 181 kg—he got crushed trying to rack the bar, with his right knee on the platform, leg splayed to the side, before getting away from the bar unhurt.

Ismayilov finished with 337 kg in the total, followed by Sergei Petrov (Russia) at 322 kg and Bernadin Matam at 321 kg.

                                                                       

                                                                       ###



Visit the IronMind Forum: talk strength, discuss this story.  Strongman, grip, Highland Games, Olympic lifting, stones and more. 

You can also follow IronMind on Twitter and on Facebook.