Daniel Splendoria Certifies on the Captains of Crush No. 3 Gripper
Correctional officer Daniel Splendoria said "having strong hands gives me an advantage in 'physical situations' and proving that strong hands are exactly what he has, Dan has just been certified on the Captains of Crush No. 3 gripper.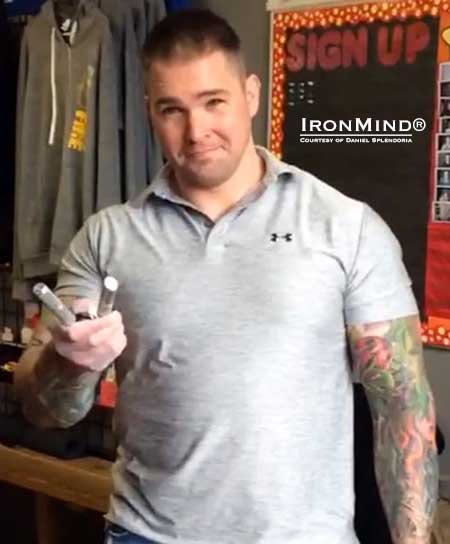 On the job and in the gym, Dan Splendoria's grip strength gives him the competitive edge—congratulations to the latest man to be certified on the benchmark Captains of Crush No. 3 gripper. IronMind® | Photo courtesy of Daniel Splendoria


Back on the advantages of grip strength, Dan added, "I am also a big fan of deadlifting. I have been able to deadlift in the 700s for reps and never use straps."

Asked about how he got started training on Captains of Crush grippers, Daniel said, "I purchased a Thomas Inch Dumbbell from you guys [IronMind] a long time ago and saw the grippers on your website. I train twice a week and squeeze the crap out of them."

"I am a Correctional Officer with a passion for deadlifting, grip strength, foot clutch jockey shift Harleys, and my family. My 3 children—Rocco, Stella, and Scarlet—mean everything to me. Before I could say anything about who I am, first I would have to talk about my dad —Anthony Splendoria. He was the hardest working man I ever knew. He was a mason contractor. He laid brick, block, and stone on the weekdays and lifted weights on the weekends. Every piece of fitness equipment we had he would rip, tear, or wear out. He didn't want me to lift heavy weight once or twice but rather have endurance and do lots of reps. After reading about 20-rep squats I decided I'd do heavy weight for lots of reps.... and it worked.

"Since discovering IronMind in the early 2000s and ordering a Thomas Inch Dumbbell, I learned about Milo and 'progressive resistance.' I lived and breathed this principle. On April 11, 2013 my dad passed away suddenly from a heart attack at the age of 63. The worst day of my life. Ironically, my dad's last day was also his best day. He told my mom and his doctor that his workout that day was his best....ever! To me that meant everything. He lived progressive resistance. Always pushing and striving for better. May everyone's last day be their best."

Congratulations, Dan, you have just been certified and your name added to the official certification list for the No. 3 Captains of Crush gripper—many thanks to Bill Yundt for serving as the referee on Dan's official attempt.


 ###



Want to talk strength? Join the IronMind Forum.

You can also follow IronMind on Twitter and on Facebook.