Daniel Reinard Doubles: Captains of Crush No. 3 and Red Nail Certifications
Daniel Reinard was crowd pleaser when he competed in the grip contest at last year's LA FitExpo—often outweighed by 150 pounds or more, he still held his own on some events, and even though he came back to the LA FitExpo as a spectator this year, Daniel did not leave empty handed: he performed a rare double as he certified on both the Captains of Crush No. 3 gripper and on the IronMind Red Nail.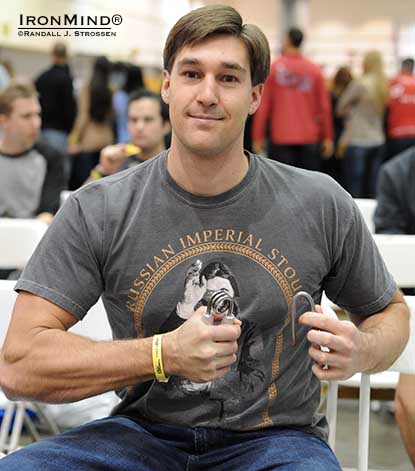 6' 2" Daniel Reinhard has bulked up to 210 lb., up about 20 lb. from a year ago, and today he's joined the elite club of men who certified on both the Captains of Crush No. 3 gripper and the Red Nail, and to make things even more exclusive, he's done both on the same day—the second man in the world to accomplish that. IronMind® | Randall J. Strossen photo.


Incidentally, if that's not enough, Daniel came up just a little short on the Rolling Thunder portion of the Crushed-To-Dust Challenge, or he'd have picked yet another big stripe over the weekend.

"First was introduced to grip when web searching for ways to keep a strong grip between climbing opportunities," Daniel Reinhard told IronMind.

"I found CoC grippers online and first received them 8/2010. I was able to close the #2 at the start. Since then it has been a goal to certify on the #3. So having completed this goal it feels good to finish my first grip goal, the one that has taken the longest.

"The Red Nail goal came right after the gripper goal when I did more online searching to strengthen my wrists. Bending is extremely fun and I enjoy it just as much as all other grip training. I also wanted to complete the Crushed to Dust challenge but the Rolling Thunder proved a tough lift again this year. I was close to a full lift. I'll be back to try it again at the next expo.

"My current training has moved from climbing to powerlifting and strongman, with grip the priority. These are the new strength passions I focus heavily on.

"I'd like to thank Randall and IronMind again for such a smoothe and nice process. And I'd like to thank Clay Edgin, the judge, for his time and professionalism."

IronMind would like join in thanking Clay Edgin (CoC3 '03, Red Nail '04) for serving as the referee on Daniel's official attempts, and speaking of official, congratulations, Daniel: your name has been added to the Captains of Crush (CoC) No. 3 gripper certification list, and also to the Red Nail Roster. Nice work!


### 



The IronMind Forum: discuss this article, talk strength, get help with your training.

You can also follow IronMind on Twitter.