Dan McKim: World Record Performance at the 2014 Rio Grande Valley Celtic Festiva
Throwing at the Rio Grande Valley Celtic Festival, defending IHGF Highland Games world champion Dan McKim delivered what Francis Brebner called "the best series of hammers known to date."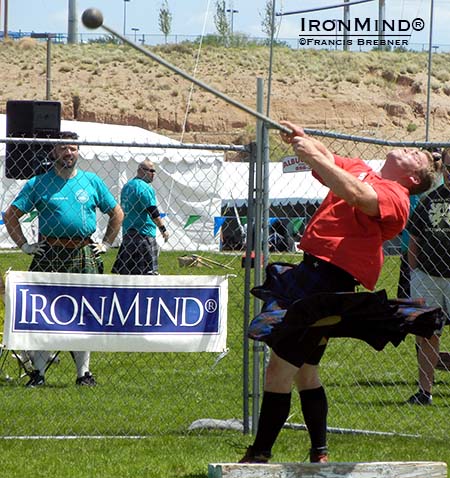 As part of his overall victory, Dan McKim hammered the world record book at the Rio Grande Valley Celtic Festival. IronMind® | Francis Brebner photo


2014 Rio Grande Valley Celtic Festival
by Francis Brebner
CEO, International Highland Games Federation

The Rio Grande Valley Celtic Festival celebrated its 26th year of games with perfect weather conditions and record crowds, and Dan McKim undoubtedly had the best series of hammers known to date. McKim, the current IHGF world champion, captivated spectators with an all-round world-class performance, adding to the pages of Highland games history by setting a new world record in the 22-lb. hammer with a throw of 129' 11-1/2", beating Matt Sandford's record of 129' 10-1/2" set in Halkirk, Scotland in 1997.

Seven professional athletes made up the field, including McKim, Sean Betz, Dan Williams, Charles Kasson, John Pilling, Ryan Stewart, and Chad Gustin.

In the opening event with the 22-lb. Braemar stone, McKim triumphed with a putt of 42' 2-1/2". In second was Pilling with 41' 5-3/4" and in third Williams with 39' 2".

The 16-lb. open stone witnessed world-class putting from Pilling, who ruled the event with a colossal 56' 10". McKim was second with 53' 11-1/2" and Betz third with 46' 8-1/2".

In the 56-lb. weight-for-distance, Williams won with a blitz of 44' 10-1/2", followed by Stewart with 42' 1/4" and McKim with 41' 9".

The 28-lb. weight-for-distance was a close tussle between McKim and Stewart, with McKim just pulling ahead for the win with 84' 1-1/2"; in third place was Betz with 80' 5-1/2".

Next came the 22-lb. hammer, and there was feeling in the air that something special would be created by McKim, who had been putting out big numbers all season that were so close to both light and heavy hammer world records. On McKim's first attempt, the crowd and the athletes were in awe as he ripped out a throw of 128' 9". This was followed by 125' 10-1/2" and then a huge throw of just over 129', which was a foul. On extra attempts, McKim produced a series of throws from 127' 1", to the new world record of 129' 11-1/2", and a final attempt of 129' 1/2". In second place was Betz at 108' 3/4" and in third Stewart at 104' 2".

The excitement did not stop there as the group moved to the 16-lb. hammer, with McKim once again displaying his talent with a mind-blowing series of throws, opening with 145' 2', followed by 150' 5-1/2" and 151' 2-1/2". With three extra attempts, Dan wrapped it up with 153' 5-1/4", 150' 6" and 150' 11". Betz again took second with 135' 9-1/2".

The 56-lb. weight-over-bar opened at a height of 14', which quickly moved to 15' and then 16', with the final result of Williams claiming the win at 18' 6' using the spin method. Second was McKim at 17' and third Betz at 16'.

In the 20-lb. sheaf-over-bar, Stewart was on a high, winning with a captivating throw of 32'. Second place was skirmish between Kasson and Pilling, both making their debuts in the professional ranks. Tying at 30', Kasson claimed second place with fewer attempts, leaving Pilling in third.

The caber was 19' 8" long and 132-lb. and proved to be a worthy stick as only two athletes managed to successfully toss it. McKim lofted a perfect 12:00 for the win and Williams came in second with 1:00. Stewart took third with 75 degrees.

Final places:

1. Dan McKim
2. Sean Betz
3. Ryan Stewart
4. Dan Williams
5. John Pilling
6. Charles Kasson
7. Chad Gustin

All in all, the Rio Grande Valley games was a perfect setting for McKim to rewrite the pages of Highland games history. He came to these games in fantastic throwing condition and produced a stunning all-round performance, establishing the best-known series of throws in the 16-lb. and 22-lb. hammers, with five throws over 150' in the light hammer and five throws over 125' in the heavy hammer, with three of them over 129', and setting a new world record 129' 11-1/2" to cap it off.

It was not long before news of McKim's accomplishments with the hammers was received by Australia's Matt Sandford, a five-time world champion and the former world record holder in both hammers. Matt conveyed a message through me to pass on to Dan, congratulating him on his awesome throwing and the new world record in the heavy hammer.

Grant Oliver and Chuck Thomas of the Rio Grande Valley Celtic Festival and master athlete Shawn Baker, a patron of the games, were thrilled to witness history being made by Dan McKim and having its first professional world record set Rio Grande Valley Celtic Festival. In my near thirty years of being involved with the sport, I have never seen a series in one hammer event, let alone two, like that which Dan McKim produced at the Rio Grande Valley Celtic Festival. I can foresee from looking at Dan's series of throws that they are just the beginning of bigger throws to follow this season. Dan, I think, has not yet reached his peak, and I predict his going to 131' plus in the heavy and 157' plus in the light, so keep watching and stay tuned.

###



Want to talk strength? Join the IronMind Forum.

You can also follow IronMind on Twitter and on Facebook.