Dan McKim Wins Estes Park Highland Games
In the last few weeks, Dan McKim has won the 2013 IHGF World Championships and the 2013 US Invitational Heavy Events Championships, and this weekend he added the crown from the Estes Park Highland Games to his collection.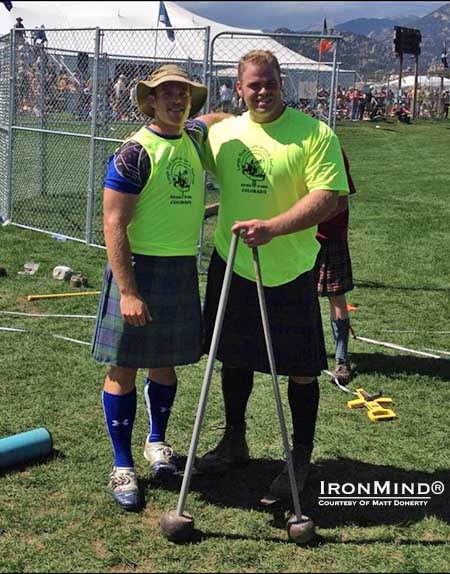 Matt Doherty (l.) and Dan McKim (r.), showing the hammers on which Dan set two new national records. IronMind® | Photo courtesy of Matt Doherty


2013 Estes Park Highland Games
by Francis Brebner

It was a smashing day at the Long Peak Scottish Irish Festival this past weekend in Estes Park, Colorado, as the newly crowned 2013 IHGF world champion Dan McKim kept up his dominating performance by winning overall and setting two national records in the 16-lb. and 22-lb. hammers, and coming within inches of the world record on the 22.

Eleven top pro heavy athletes made up the field, including USA's Dan McKim, Sean Betz, Dan Williams, Ryan Stewart, Nathan Burchett, Rusty Price, Lucais MacKay, Gene Flynn, and Mike Dickens; and Canada's Matt Doherty and Danny Frame.

The 22-lb. Braemar stone was won by the big and powerful Williams with a putt of 43' 1"; he was followed by McKim at 41' 8-3/4" and Doherty at 40' 2-3/4".

McKim comfortably won the 16-lb. open stone with a putt of 54' 2-1/2", with Doherty pulling out his best of 50' 3-3/4" for second place and Betz taking third at 48' 3".

In the 56-lb. weight for distance, McKim looked strong in his delivery and notched up his second win with a crushing throw of 44' 6"; second place was Price at 40' 2-3/4" and third Williams at 39' 10-3/4".

The 28-lb. weight for distance ended in a close tussle between Williams and McKim, with the win just marginally going to Williams with a throw of 83' 2-1/2". McKim was 1-1/2" behind at 83' 1"; Doherty took third at 80' 4-1/2".

Next up were the hammers, starting with the 22-lb., and McKim had already thrown a new national record of 125' 10" in Antigonish, Canada at the IHGF World Team Championships in July; then at the end of August, at Dana Point, California at the IHGF World Highland Games Championships, he had had a series of throws with the heavy hammer all over 123', the likes of which had not been seen Australia s Matt Sandford, the Wonder from Down Under, back in the late 1990s. The handwriting was on the wall for McKim as he knew that this season his hammers had never been better and he was within striking distance of the world record.

Here, Dan ripped out a series of world-class throws, with his best being an astounding 129' 5-1/4", setting a new national record just 5" shy of Matt Sandford's world record of 129' 10", set in Halkirk, Scotland in 1997. Doherty did 116' 6-1/2" for second and Betz 115' 3-3/4" for third.

In the 16-lb. hammer, McKim once again was in a realm of his own as he let fly with a magnificent throw of 152' 11". Doherty took second with a world-class 145' 6", which was a personal best; Betz again placed third with a noble throw of 141' 1-3/4".

The caber was 21' 2" long and 106-lb. in weight and was won by the 2013 IHGF caber champion, McKim, with a perfect 12:00 toss. Second was Williams with 12:15 and third Stewart with 11:40.

The 20-lb. sheaf was won outright by McKim at a height of 31'; a four-way tie for second between Williams, Betz, Stewart and Burchett occurred at 29'.

Williams spun his way to victory in the 56-lb. weight over the bar, with McKim in second at 17' standing and Betz third at 16' 6", also standing.

Overall points (decathlon scoring):
| | | |
| --- | --- | --- |
| 1. | Dan McKim | 8935 |
| 2. | Dan Williams | 8332 |
| 3. | Sean Betz | 8168 |
| 4. | Ryan Stewart | 8061 |
| 5. | Nathan Burchett | 7936 |
| 6. | Matt Doherty | 7890 |
| 7. | Rusty Price | 7670 |
| 8. | Danny Frame | 7600 |
| 9. | Lucais MacKay | 7378 |
| 10. | Gene Flynn | 7368 |
| 11. | Mike Dickens | 7163 |

#

Want to talk strength? Join the IronMind Forum.

You can also follow IronMind on Twitter and on Facebook.