Dan McKim Wins Costa Mesa Highland Games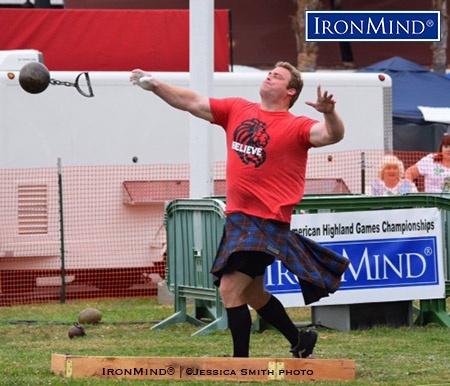 Costa Mesa, always a big Highland Games, featured another Dan McKim–Matt Vincent shootout, with McKim taking top honors: IHGF CEO Francis Brebner calls the action for IronMind.

 
2016 Costa Mesa Highland Games
by Francis Brebner
International Highland Games Federation (IHGF)
 
The Costa Mesa Highland Games, held in Southern California this past weekend, attracted some of the biggest crowds over its two days of festivities. More than 120 athletes competed in perfect weather, generating fantastic throwing in all categories.

The pro class had a top-notch line-up of athletes, including Dan McKim, Matt Vincent, Andy Vincent, Curtis Durocher, Jon O'Neil, Jake Sullivan, Ryan Stewart, Nick Kahanic, and Chad Smith.  


In the 24-lb. Braemar stone, A. Vincent took charge from the first round, ending with a class putt of 43' 1-1/2" for the first victory of the competition. Second place was a tight battle, round after round, between McKim and M. Vincent, with M. Vincent nabbing second with a putt of 41' 1-3/4", leaving McKim in third at 41' 1/2".
 
The 56-lb. weight-for-distance was exciting to watch as M. Vincent opened with a series of throws all over 43' with his best being 45' 5-1/2" for the win. McKim took second with 42' 5-1/2", and A. Vincent was third at 40' 8".
 
World-record holder in the hammers, McKim dominated the 16-lb. hammer with a best of 130' 4", followed by M. Vincent at 123' 2" and Sullivan at 119' 5".
 
In the 22-lb hammer, surprisingly only two athletes broke the 100' barrier, with McKim breezing to the win with a crushing throw of 114'. M. Vincent was second with 102' 1" and Kahanic third at 94' 7-1/2".
 
The competition caber, which was 17' 4" long and 125 lb., was riveting for the crowd as McKim and A. Vincent slammed not one but two 12 o'clocks, tying for first and sharing the win. Kahanic placed third, pulling out a 12 o'clock in his last attempt.
 
The 56-lb. weight-over-bar was remarkable, with five athletes clearing 16' and A. Vincent taking the win at 17' and just missing 18'. Four athletes cleared 16', with O'Neil and McKim sharing second place.
 
Day two resumed with the 16-lb. open stone, and all eyes were on Kahanic, the current world record holder, but it was not his day. A. Vincent led the way from the first round but was overtaken by M. Vincent, who blasted out a putt of 53' 8" in his final round to claim the win, leaving A. Vincent in second with 51' 10-1/2"; third place went to McKim at 50' 10". 

In the 28-lb. weight-for-distance M. Vincent effortlessly threw out bombs again and again, his best being 83' 5" for his third event win. McKim was second at 80' 1" and A. Vincent third at 75' 9". The 20-lb. sheaf toss, ended in a draw between A. Vincent, M. Vincent, McKim and Stewart at a height of 27'.    
 
A big mention must be made of Dan Tennison, who dominated the A group, pulling a best of 58' in the 16-lb. open stone for the win and 44' 5" in the 24-lb. Braemar stone. So far this year on the international games circuit, he has the biggest putts recorded in the Highland Games, and I predict we are looking at a future champion in the sport.      
 
Overall places:
 
1. Dan McKim            18.5   
2. Matt Vincent          21.0     
3. Andy Vincent         26.5   
4. Nick Kahanic         40.5   
5. Ryan Stewart        53.0      
6. Jon O'Neil             54.5   
7. Curtis Durocher     61.0      
8. Chad Smith           63.5   
9. Jake Sullivan         66.5
 
                                                       ###


You can also follow IronMind on Twitter and on Facebook.                        



Want to talk grip, strongman, weightlifting . . . everything strength? Visit the IronMind Forum.