Dabaya Brings on La Marseillaise
Strasbourg - When Vencelas Dabaya won the 2006 World Weightlifting Championships, his French compatriots had one more good reason to drink Champagne, and tonight, at the European Weightlifting Championships, his delivered an encore.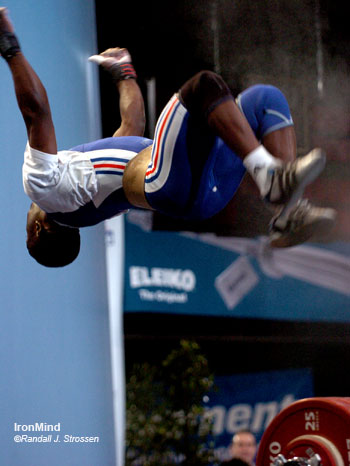 Vencelas Dabaya (France) celebrated his victory in the 69-kg category at the European Weightlifting Championships today with a back flip. IronMind® | Randall J. Strossen, Ph.D. photo.

Tigran Martirosyan (Armenia) got started where his teammate Hripsime Khurshdyan had left off in the women's 75-kg category, opening in the snatch after everyone else was finished, ripping up 150 and 155, before missing 157 in what would have been a new junior European record. Dabaya was second in the snatch, with 148 kg, but he was lighter than Martirosyan, and Vladislav Lukanin (Russia) was also in the hunt, with his bronze medal snatch of 147 kg.

Of the leaders, Lukanin opened first in the clean and jerk, making a good lift with 175 kg, but when he returned the bar to the platform, he looked like he was in a lot of pain. Martirosyan opened with 176, but his power jerk was out front and the bar came crashing down. On his second attempt Matirosyan was passing out as he stood up, and he had to dump the bar, so now his back was against the wall, but when he repeated, there was no doubt about the lift and he went into the lead in both the clean and jerk, and the total.

Dabaya, who was lighting up the large crowd there to cheer their man on, opened with an easy 180, to overtake Martirosyan in the jerk, and move into second in the total. Dabaya followed himself, and showing that he wasn't being reckless, he took 183, to move into the lead in the total. To say that his second attempt looked easy would be quite an understatement. Lukanin was the only other lifter still in the competition at this point and he had two attempts left. He had originally been in for 188, but his second was lowered, and when he came out for 185, looking very fired up, he was stopped as he stood over the bar and called back, as the jury debated, possibly, whether the change had been received in time. The delay seemed likely to affect Lukanin when he was then cleared to lift, but another school of thought was that it would only make him than much hungrier to succeed.

This weight would move Lukanin into the lead in both the jerk and the total, so it was a huge attempt, but after attacking the bar for a good but not easy clean, Lukanin missed the jerk. He repeated and it was pretty much the same thing again, so the French fans had something big to cheer about. Dabaya, wasn't quite ready to rest on his laurels yet, though, and he called for 190, although all he did was a pull. No matter, the corks were ready to fly.

Earlier, in the women's 75-kg category, it was all Hripsime Khurshudyan (Armenia), who won with 262 kg (122/140). Tatiana Mateeva (Russia) was second (108/139), edging the ever-popular Lidia Valentin (Spain), on bodyweight.