Lukasz Wenta added to his list of victories with a win at the Cupar Highland Games in Scotland.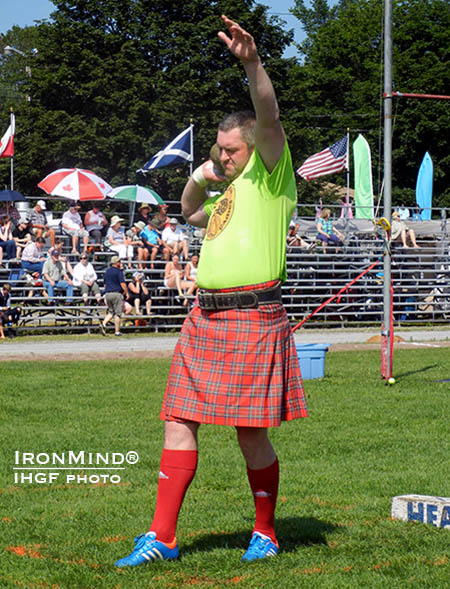 Lukasz Wenta is the top ranked European Highland Games competitor so far this season. IronMind® | IHGF photo


2014 Cupar Highland Games
by Francis Brebner
CEO
International Highland Games Federation (IHGF)

The Cupar Highland Games in Scotland attracted over 2000 spectators, who saw the top-ranked European Highland Games athlete Lukasz Wenta claim another victory. On a warm but overcast day, Wenta produced a great all-round performance with three overall wins and one joint win.

Athletes making up the field of contenders were Wenta, Craig Sinclair, Stuart Anderson, Bruce Robb, and Hiesi Geirmundsson. In the 16-lb. open shot, Wenta took the win in his undefeated event so far this season with 56' 5". Second place was Geirmundsson at 48' 8" and third Sinclair at 47' 7".

The 22-lb. shot was a comfortable conquest for Wenta, who putted it 45'. Geirmundsson was second with a notable 42' and Robb third at 39' 11".

In the 28-lb. weight-for-distance, Sinclair came into his own, pulling out the winning throw of 83' 9" and some much needed points. Wenta took second with 80' 8"and Robb third with 77' 8".

In the hammers, Sinclair worked to nail his wins with Wenta breathing hard behind him, doing 110' 10" in the 22-lb. hammer to Wenta's second place 102 '2". Robb followed in third at 97' 9".

The 16-lb. hammer was Sinclair's second win with a distance of 126' 5" but it did not come easy as Wenta kept snapping at his heels; he concluded with a distance of 121' for second place. For third, Anderson came in with a throw of 115' 5".

In the 56-lb. weight-over-bar, Wenta and Geirmundsson tied at 15', with Robb, Anderson and Sinclair third equal.

The final event with the caber toss capped Wenta's wins; Geirmundsson placed second and Anderson third.

Overall points
| | | |
| --- | --- | --- |
| 1. | Lukasz Wenta | 28 |
| 2. | Craig Sinclair | 19 |
| 3. | Hiesi Geirmundsson | 12 |
| 4. | Bruce Robb | 7 |
| 5. | Stuart Anderson | 5 |

###



Want to talk strength? Join the IronMind Forum.

You can also follow IronMind on Twitter and on Facebook.