Craig Sinclair Wins Oldmeldrum Highland Games
A little rain didn't spoil the fun at the Oldmedlrum Highland Games, where the competition was so close that the final standings were decided on the last event. Francis Brebner called the action for IronMind.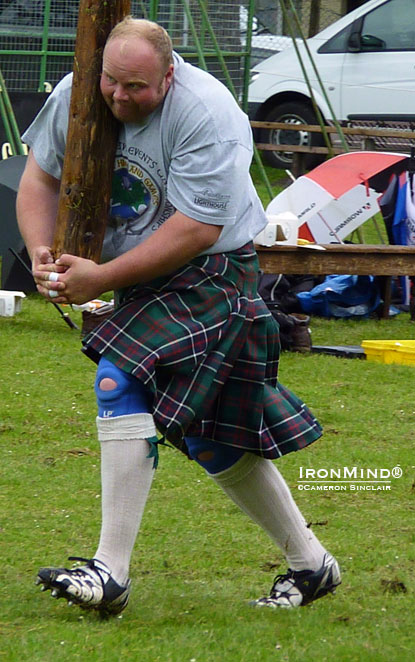 Craig Sinclair won the British Caber Tossing Championships and as well as the overall title at this weekend's Oldmeldrum Highland Games. IronMind® | Cameron Sinclair photo.


2011 Oldmeldrum Highland Games
Francis Brebner

The Oldmeldrum Highland Games held this past weekend was the second games in the Glenfiddich Grampian Championship Series. A total of ten top Scottish athletes, including Craig Sinclair, Bruce Robb, Sinclair Patience, Steve Aitken, Bruce Aitken, Lorne Colthart, Stephen King, David Dowson, Stuart Anderson, and John MacLeod, were attracted to the Games.

Despite a day of intermittent heavy rain, some good numbers were produced. Only two throws were given each athlete because of the weather conditions.

Sinclair took the first win in the 16-lb. hammer with a distance of 128' 10". In a very close second place was B. Aitken at 127' 5", and in third, Patience at 120' 11".

Following was the 22-lb. hammer in which Sinclair notched up his second win with a throw of 109' 6". B. Aitken came in second place again at 102' 3", with Robb making it into third place with 99' 1".

In the 16-lb. shot Robb came into his own with a winning distance of 51' 5". In a very respectable second place was Patience with a put of 50' 8", just nudging England's Dowson into third at 49' 1".

Robb pulled out another leading throw of 43' 1" in the 22-lb. shot and was now equal to Sinclair with two wins apiece. Dowson took second with 41' 8", but Sinclair was hot on his heels and just inches behind at 41' 3".

In the 28-lb. weight-for-distance, Patience took the win with a very fine throw of 78' 1", leaving Robb in second at 77' 5" and Sinclair in third at 76' 5".

The caber toss, which was for the 2011 British Caber Tossing Championships, used an 18' long, 190-lb. caber. Soaked with water which added extra weight, it was tossed successfully by only three athletes: first was Sinclair with a perfect 12:00; second, Robb with 12:15; and third, Colthart with 2:00.

The points could not have been closer between Sinclair and Robb going into the last event, leaving the 56-lb. weight for height to decide the overall winner. Sinclair finally nailed the victory over Robb at 13' 6". Second place was a tie between Robb, Patience, B. Aitken, S. Aitken, King, Anderson and MacLeod.

Overall points:
| | | |
| --- | --- | --- |
| 1. | Craig Sinclair | 32.5 |
| 2. | Bruce Robb | 28.0 |
| 3. | Sinclair Patience | 23.0 |
| 4. | Bruce Aitken | 15.5 |
###


The IronMind Forum: discuss this article, talk strength, get help with your training. http://www.ironmind-forum.com/

You can also follow IronMind on Twitter.