Corey Summers Shines at the 2018 Great Plains Renaissance Festival & Highland Games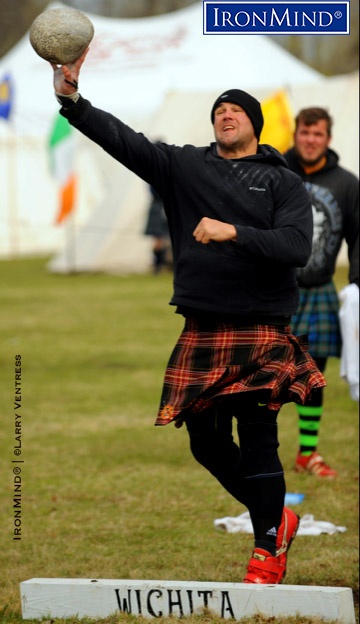 Scotsman Francis Brebner called field conditions at the 2018 Great Plains Renaissance Festival and Highland Games "the coldest games I've ever been involved with in the USA . I was frozen to the core, but it was still nice with the enthusiasm of the athletes competing" and the "new kid" Corey Summers turned in an inspired performance.


2018 Great Plains Renaissance Festival & Highland Games—and IHGF Qualifier
by Francis Brebner
President, International Highland Games Federation (IHGF)
 
The fourth leg in the IHGF All-American Highland games qualifying series took place recently at the Great Plains Renaissance Festival and Highland games, in Wichita, Kansas, where eight super A group athletes contended for the one qualifying spot: Skylar Arneson, Corey Summers, Tomas Lambotte, Zach Lucas, Mike Dickens, Ryan Huddleston, Jon Hereth, and Eddie Johnson.
 
Despite showers throughout the weekend, the athletes were not deterred in their throwing. The new kid on the block, Summers, who has been throwing for just over a year, made a huge impact in his first IHGF qualifier, clipping Arneson by two points for the win.
 
In the 22-lb. Braemar stone, Arneson, Summers, and Hereth were in the skirmish, with Arneson and Hereth tying at 37' 10" and the win going to Arneson on countback; Summers took third with 36' 1".
 
In the 16-lb. open stone, Summers was the only athlete to surpass the 50' barrier, with a best of 50' 9". Arneson's best was 49' 1" for second, with Hereth in third at 43' 10".
                                                                                                                                                           
Summers kept up his winning streak with a gallant throw of 39' 6" in the 56-lb. weight for distance, followed by Hereth with 37' 10" and Dickens with 36' 9".

Summers triumphed for a third time in the 28-lb. weight for distance with a majestic throw of 77' 3"; Arneson took second with 74' 2" and Hereth third with 72' 2".
 
All eyes were on Arneson in the 22-lb. hammer as this was a favored event, but he was overtaken by Johnson in the last round, who came up with 100' 7" to Arneson's 100'. Summers was third at 92' 7".

Arneson was vindicated in the 16-lb. hammer, but just marginally, with his effort of 122' 10" to Johnson's 122'; third was Summers at 115' 4".
 
The 56-lb. weight over bar was a special event for the title of IHGF All-American Weight over Bar Championships, and Summers excelled with a winning height of 16', with a tie for second at 15' between Arneson and Hereth.
 
Going into the caber toss, at 19' 5" and 91-lb., Dickens tossed a grand slam with three 12:00s. Summers tossed 12:00 and 11.50, and Arneson did 12:00 and 1:00.
 
Overall places
1. Corey Summers 15
2. Skylar Arneson 17
3. Jon Hereth 31
4. Eddie Johnson 34
5. Tomas Lambotte 40
6. Mike Dickens 41
7. Ryan Huddleston 51.5
8. Zach Lucas 58.5
 
The IHGF would like to thank Richard Cathey of the Great Plains Renaissance Festival for hosting the IHGF qualifiers; athletic directors Dave and Gunner Glasgow and Larry and Terri Ventress, who made it all possible; and Naughty Nurses BBQ, who fed 60-plus athletes and officials over the two days of competition.

The next IHGF All-American Highland games qualifier will be held in Albuquerque, New Mexico, 20–21 May 2018.

                                                ###



You can also follow IronMind on Twitter, Instagram and on Facebook.                        



Want to talk grip, strongman, weightlifting . . . everything strength? Visit the IronMind Forum.