Colin Dunbar: 2018 IHGF All-American Champion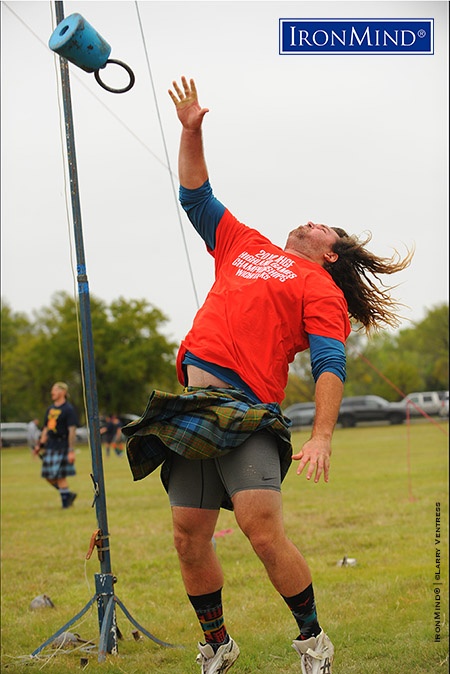 Colin Dunbar rose to the challenge and won the 2018 IHGF All-American Championships, hosted by the Great Plains Renaissance Festival (Wichita, Kansas).



2018 IHGF All-American Championships: Dunbar Pulls Off the Win
by Francis Brebner
President, International Highland Games Federation (IHGF)
 
After a very successful IHGF All-American Highland Games qualifying series set at games throughout the U.S., the finals were hosted by the Great Plains Renaissance Festival in Wichita, Kansas, with the title holder earning a place at the 2019 IHGF World Amateur Highland Games Championships in Bressuire, France and a place in the IHGF World Highland Games series, which will include France , Switzerland, Norway and one other country to be confirmed.
 
Throughout the 2018 season, U.S. athletes had competed in a qualifying series of ten games, with a total of 8 athletes making it to the championships: Cory Summers, Colin Dunbar, Skylar Arneson, Ryan Huddleston, Jon Hereth, Sean Burns, Eddie Johnson, and Garrett Blatnik. This year's championships was one of the best, a battle from start to finish with both Dunbar and Summers battling in every event. In perfect weather conditions, ground records tumbled and a new world record of 18' 6" was set by Dunbar in the 56-lb. weight over bar.
 
In the 22-lb. Braemar stone, Dunbar delivered a majestic and record-breaking putt of 43' 6" for the win, surpassing the old field record of 42' set by Kyle Lillie in 2017. Second place was a tight skirmish between Burns and Summers, with Burns pulling ahead with a putt of 39' 4" for second place, followed by Summers at 37' 11".
 
In the 16-lb. open stone, Dunbar's hail of class putts were all over 54', with his best at 54' 9" for the win. Second was Summers with a very respectable putt of 51" , and third Arneson at 48' 6".                                                                                                                                                          
 
The lead changed hands on several occasions in the 56-lb. weight for distance, a tussle between Blatnik, Summers, and Dunbar. The win was determined by Blatnik's fantastic throw of 41' 8", which he then upped on extra attempts to 43' 2", a new field record. Just 2" behind in second was Summers with 41' 6", with Dunbar third at 40' 11".
 
Summers turned up the power in the 28-lb. weight for distance and took the lead from the first round with blistering throw of 84' 3" for the win and a new field record. Dunbar followed with 80' 8" and Blatnik was third at 77' 10".
 
The 22-lb. heavy hammer was a highlight as Dunbar and Summers went at it, with Summers taking an early lead and Dunbar letting rip 110' 6" on his final attempt to take the win to set  a new ground record, surpassing the old record of 110' set by Arneson in 2017. Summers took second at 105' 11" and Arneson third at 101' 9".
 
All eyes were on Dunbar in the 16-lb. hammer, who was throwing without any spikes and using only two turns, which didn't keep him from taking first-place with a world-class throw of 136' 8", which he upped to 138" on extra attempts. Arneson and Summers dueled for second place with Arneson 1" ahead at 128' 7" to 128' 6".
 
Dunbar was in the lead by 4 points going into the caber, which was 20' and 120 lb. Summers was the only athlete to toss the stick, doing 1:30, and it was a huge upset for Dunbar, who placed seventh and lost his lead. Second was Blatnik with an 80-degree effort, and third Arneson with 75 degrees.
 
Only a few weeks earlier, Dunbar had set an amateur world record at 18' 3" in the 56-lb. weight over bar, and he did it again, establishing a amateur new world record at 18' 6". Second was a tie between Blatnik and Burns at 15". Unfortunately for Summers, he was getting the height but just could not find the trajectory for the weight to cross over the bar and had to settle for fourth place with a best of 14".
 
Overall placings
1. Colin Dunbar 17
2. Cory Summers 18
3. Skylar Arneson 29.5
4. Garrett Blatnik 33
5. Sean Burns 42
6. Jon Hereth 43.5
7. Eddie Johnson 46
8. Ryan Huddleston 59
 
The American Highlander Dunbar put up an amazing performance and kept his composure throughout the competition, pulling off the victory and setting a new world record. Never before have I seen anyone throw as far in the hammers without using spikes. Summers, in only his second season, has made a huge impression in the sport and is a rising Highland Games star.
 
Dunbar praised the great games and hospitality, noting that he was looking forward to his final games of the year, 13–14 October in San Clemente: "I feel confident of going even higher in the 56-lb. weight over the bar, possibly 19'." The IHGF would like to thank director Richard Cathey of the Great Plains Renaissance Festival for hosting the IHGF All-American Highland Games Championships, and especially the athletic directors, Dave and Gunner Glasgow and Larry and Terri Ventress, for making it all possible.
 
The final games this season will be the IHGF Celtic Classic Highland Games Challenge and the finals of the Men's IHGF All-American Stones of Strength and the Women's IHGF All-American Strength Games, all filmed for TV and social media. Join the festivities at the San Clemente Fall Carnival, 13–14 October, at the Vista Hermosa Sports Park, with heavy events starting at 11:00 am each day, and free entry and parking. 

                                              ###



You can also follow IronMind on Twitter, Instagram and on Facebook.                        



Want to talk grip, strongman, weightlifting . . . everything strength? Visit the IronMind Forum.