Circus Strongman Robert Spindler Certifies on the IronMind Red Nail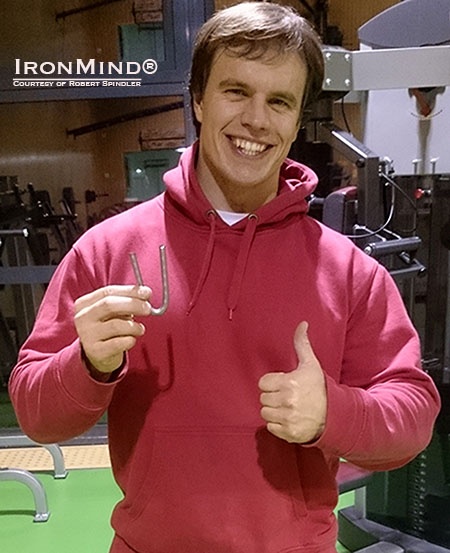 Robert Spindler, aka Eisenhans, a lifetime drug-free strength athlete who has made his mark in powerlifting and stone lifting to working as a circus strongman, has just been certified on the IronMind Red Nail, a benchmark steel bend.

Asked by IronMind for some background information, Robert wrote:

"I live in Innsbruck, Austria, I'm thirty years old, weigh 100kg (220lbs) and I'm 180cm (5' 10") tall.

I work as a circus strongman across Europe under the stage name "Eisenhans" and I have studied English and American Studies at Innsbruck University.



I started out as a powerlifter and was Austrian champion twice (IPF). I love steel bending, stone lifting, and grip strength training. In 2013, I had the chance to lift the Dinnie Stones unassisted and shoulder the Inver Stone, inspired by Steve Jeck's Of Stones and Strength. Of course I enjoy training with the IronMind grip strength products, especially the Captains of Crush grippers. I'm lifting weights since the age of thirteen, life-time drug free.

I'd like to thank Dr. Christian Klotz for being my judge.

I can forward a link to a video of the attempt later on, if you like.

And thank YOU very much, Chris [Sheehan], for the guidance and assistance towards my Red Nail certification attempt."

Job done and it's official: Robert Spindler has been added to the Red Nail Roster!
And speaking of the video, here's a link to Robert Spindler's official attempt to bend the IronMind Red Nail.

                                                      ###



Want to talk strength?  Join the IronMind Forum.

You can also follow IronMind on Twitter and on Facebook.