Christian Savoie Wins Canada's Strongest Man
He came out swinging and didn't stop, and when the final bell rang, Christian Savoie had won the 2009 Canada's Strongest Man contest - which carries an added plum in the form of an invitation to the World's Strongest Man contest, the leading event in the strongman world.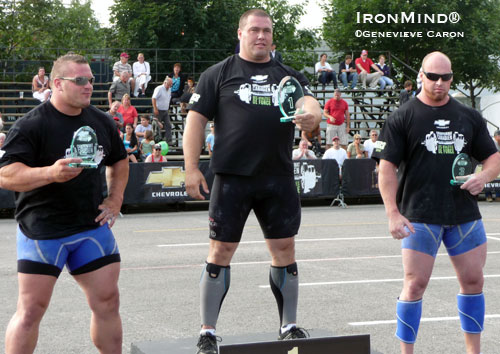 Christian Savoie made big news in strongman today when he won the 2009 Canada's Strongest Man contest. IronMind® | Photo by Geneviève Caron.


Yesterday, Canada's Strongest Man was marked by close battles, but at each stage, Christian Savoie pushed onward. As a result, he came into today with a solid lead - surprising a lot of people as he proved himself to be the man to beat - and today saw him continue on his path, claiming the big title and the big invitation.

Grant Connors won today's first event, the Deadlift Hold, and then Christian Savoie bounced back with another victory on the second event of the day, the Tire Flip. Defending Canada's Strongest Man winner Louis-Philippe Jean pushed forward with a win on the Viking Press, but going into the final event, Christian Savoie's consistently high-level performance had left him in the driver's seat, as he led Louis-Philippe Jean by 6 points; Jean-François Caron was 2.5 points behind Louis-Philippe Jean at this point.

Christian Savoie left no doubt that he was focused, finishing strongly on the final event, a medley, once again a battle between himself, Jean-Francois Caron and Louis-Philippe Jean.

Here are the final points and places for the top three:

1. Christian Savoie 88 points

2. Louis-Philippe Jean 81 points
3. Jean-François Caron 80.5 points

All of these points are unofficial, although they are believed to be accurate. IronMind® would like to thank everyone who contributed to our coverage of the 2009 Canada's Strongest Man contest, especially Ms. Geneviève Caron, Communications Consultant for Montmagny, Quebec.