Chinese Hercules Strongman Contest
"Had a great trip to China with a very successful event on their part," Bill Lyndon reported to IronMind, "and also met with Dione [Wessels] for the first time, which was nice.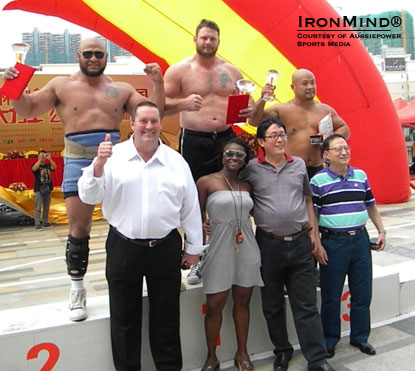 In an international team building effort, strongman leaders from Australia, USA and China collaborated on a successful effort. "Communication is now open, with many options," Bill Lyndon told IronMind. IronMind® | Courtesy of Aussiepower Sports Media.


Aussiepower Sports Media released this story on the competition:

2011 Sino–Foreign Strongman Match: The 2011 Chinese Hercules

The Leisure Sport Administrative Centre of the General Administration of Sport of China hosted the Chinese Hercules this past long weekend a two0day event which is part of The National Week in China.
A very strong field of Chinese athletes was selected to challenge for this great event with the Chinese athletes being selected from all over the nation via a major qualifying process, with the remainder coming from Australia, U.S.A. and Mongolia.

There were some outstanding results from all the athletes which had six spectacular events with Chinese flair staged over two days:

• Yuanbao Picking (Stone lifting)
• Tyre Flip
• Power Stairs
• Lucky plate Turning (Cask Circle)
• Farmers walk
• Burden Carrying(Super Yoke.)

Michael Bourke took the win with a great performance which gave him his second win in two weeks backing up from his win at the ASC Olympia Strongman Championships. The old war horse and Australia's Strongest Man Derek Boyer had to work hard to hold off Long Woo (Dragon) who is the current China's Strongest Man with only half a point separating the two athletes going into the last event with Derek having to win the super yoke which he did and secured the second place position.

The first day had four preliminary rounds with an initial field of eighteen athletes which had the top 12 going through to the second and final day for the two final events. A special mention goes to the three Mongolian athletes who worked very hard on the first day of the preliminaries but were outperformed on this occasion.

The Chinese and Mongolian athletes were lighter and smaller-framed than their Western counterparts, but showed great will and courage which had them pushing both Marshall White and Eben Le Roux both seasoned athletes right up to the final event to decide the top 6.

###

The IronMind Forum: discuss this article, talk strength, get help with your training.

You can also follow IronMind on Twitter.