Wroclaw, Poland—He's new to the Chinese National Team and tonight he proved he was the best in the world as Chen Lijun won the men's 62-kg class at the World Weightlifting Championships with a 321-kg total.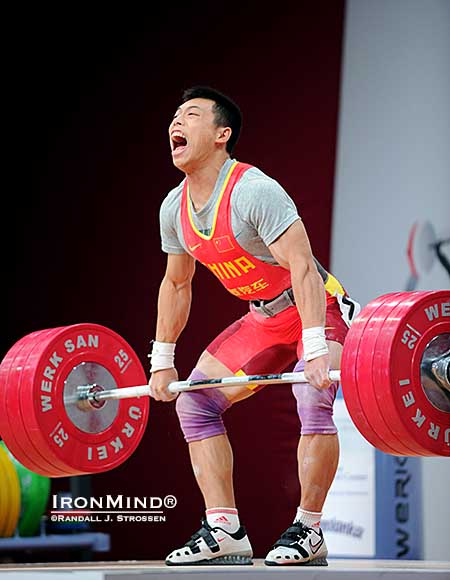 Chen Lijun (China) takes 175 kg for a ride—back to the wall, he made this clean and jerk, good for the silver medal in the jerk and the gold medal in the total at the 2013 World Weightlifting Championships. IronMind® | Randall J. Strossen photo


Chen Lijun, who has huge quads, made three good snatches (138 kg, 143 kg and 146 kg), which got him the silver medal in the snatch—beaten only by Kim Un Guk (North Korea), who stuck 145 kg on his opener, ripped 150 kg on his second and then took a world record attempt at 154 kg, but missed it up and over his head. Valentin Hristov (Azerbaijan) got the bronze medal in the snatch with his third good lift, 141 kg.

Oscar Figueroa (Columbia) had finished fourth in the snatch (139 kg), but he's got such a big clean and jerk, the smart money had him making up ground.

Kim Un Guk's overall lead would start to erode when he made 170 kg on his opener and then missed 173 kg twice. Likewise, Hristov hurt his chances for a medal in the total when he only made his first clean and jerk (170 kg), missing 176 twice: he choked on the jerk on his second attempt and then attacked it on his third attempt, but he could not fix the bar overhead.

Working things in the opposite direction, Chen Lijun must have caused some concern among the Chinese coaches and fans when he missed 173 twice, but then he roared back with an impressive success with 175 kg, the same weight Figueroa had nailed for his opener.

Now it was all Figueroa, who won the gold medal in the clean and jerk with 177 kg on his second attempt—then going for the world record in the jerk as well as the gold medal in the total, he called for 183 kg on his third attempt, the last lift in the class. Pacing before he took his attempt, Figueroa had looked strong, so success seemed possible, but he wasn't able to get under the bar and he had to settle for the bronze medal in the total.

###



Visit the IronMind Forum: talk strength, discuss this story. Strongman, grip, Highland Games, Olympic lifting, stones and more.

You can also follow IronMind on Twitter and on Facebook.