Chad Gustin Breaks Rolling Thunder Pull-up World Record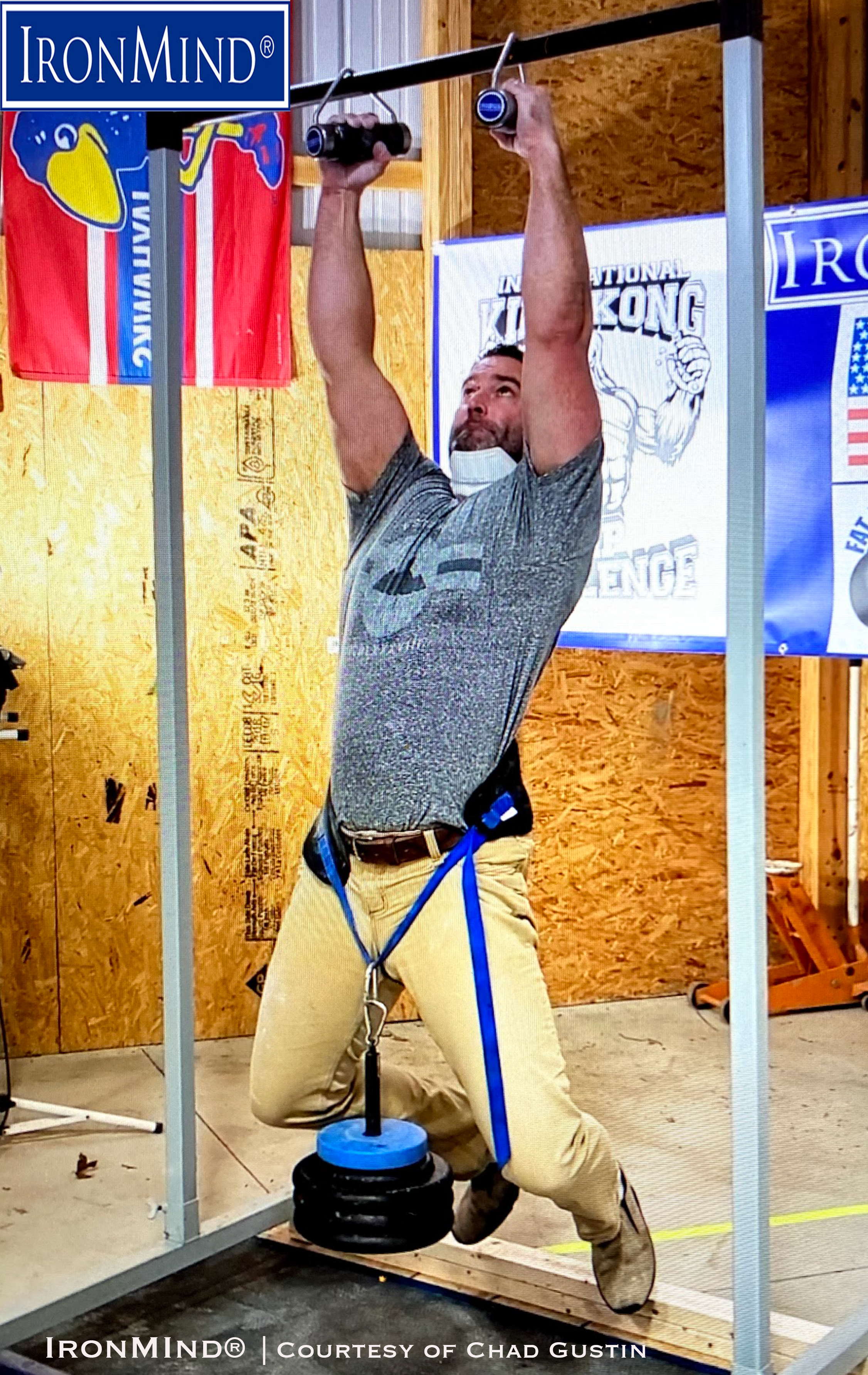 Chad Gustin, an emergency room doctor and former Highland Games pro, has broken the world record for the Rolling Thunder maximum weight pull-up with a mighty effort of 166.92 kg (total weight).
Gustin is 41 years old, 6' 5" tall and weighs 260 lb., proof positive that powerhouse performances on pull-ups are not just the province of pocket-size people.

"I was a professional Highland Games athlete from 2010 to 2017, and in 2017 sustained a career-ending back injury that required surgery," Gustin told IronMind.

"During my rehabilitation I was restricted in what exercises I could perform and pull-ups were something I could still challenge myself with and I noticed they were making my back stronger and more stable.

"I only had one Rolling Thunder like most people for lifts off the ground, but once I got my second Rolling Thunder to perform pull-ups with, it was a newfound passion. I enjoyed the combination of grip strength with pulling power, and challenged myself with not only weighted pull-ups but combining explosive band pull-ups in which various strength lifting bands were attached to my waist and bottom of power rack forcing me to be stronger at the top finish of the pull-up.

"Like everyone, I am sick and tired of this Covid pandemic and as an ER doctor this has been one of the most stressful and challenging years of my career, and it was important to me to use this training as an outlet not only to balance stress at work, but to be a positive influence to my two children to set goals, dream big, and prepare yourself a little each day to keep moving forward with hope into the future," Gustin said.
Here's a video of Chad Gustin's world record 166.92-kg Rolling Thunder pull-up.
Congratulations, on a job well done: it's official that Chad Gustin has broken the world record for Rolling Thunder Pull-ups (maximum weight).

###



You can also follow IronMind on Twitter, Instagram and on Facebook. 


Want to talk grip, strongman, weightlifting . . . everything strength? Visit the IronMind Forum.