Celebration Dinner Kicks Off the European Weightlifting Championships
Sofia, Bulgaria - Nestled on the side of Mount Vitosha, the Centre for Bulgarian National Cuisine and Folklore was the site for the official celebration dinner for this year's European Weightlifting Championships.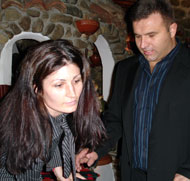 Peny and Stefan Botev, last night, at the official celebration dinner for the 2005 European Weightlifting Championships. IronMind® | Randall J. Strossen, Ph.D. photo.
The heads of the participating national federations and a few lucky others were treated to an evening of food, music and dance representing Bulgarian culture.

Hosted by Bulgarian Weightlifting Federation President Andon Nikolov and General Secretary Stefan Botev, there was a festive atmosphere with plenty of lifting stars, such as Alexander Kurlovich, Waldemar Baszanowski, Yanko Rusev and Nicu Vlad.

Last night it was eat, drink and be merry, but starting tomorrow, all that matters is lifting the barbell.