Casey Burgener: The Next Mario?
Mario Martinez brought home a silver medal in weightlifting from the 1984 Olympics, the last member of a USA men's Olympic weightlifting team to hit the podium, so when someone extremely knowledgeable talks about "the next Mario," it's time to listen up.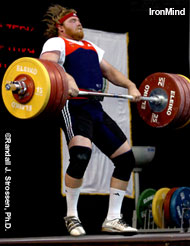 Casey Burgener flies through his opening clean and jerk, 210 kg, at the 2005 World Weightlifting Championships (Doha, Qatar). IronMind® | Randall J. Strossen, Ph.D. photo.
So when three-time USA Olympic weightlifting coach Jim Schmitz said of Casey Burgener, "He might be the next Mario Martinez," that's a big statement.

Casey Burgener, the top US super heavyweight, just keeps lifting bigger and bigger weights: In recent big meets, for example, he PR'd at the 2005 USAW National Championships, followed by more PRs at the 2005 World Championships, and recently he had another PR-day at the 2006 Pan Ams. As part of his steady progress, Casey Burgener is getting noticed along the way by people who know a thing or two about weightlifting.

"He's a great kid," said Schmitz. "I'm impressed with him. He's quiet, respectful and goes out and lifts big weights. He's not as strong as Mario [yet], but he's a weightlifter."

Incidentally, besides all he is putting forth to create his success, Casey has the right gene pool and environment: His strongly supportive family includes his dad, Mike, who played football at Notre Dame, pressed 400 pounds as a 198-er, is a retired USMC officer, teaches at Rancho Buena Vista High School, and besides coaching at both a local and international level, is active in USA Weightlifting and CrossFit.