Captains of Crush® Gripper Certifications at the GNC Grip Gauntlet
Once again, the GNC Grip Gauntlet will be working closely with IronMind for Captains of Crush® gripper certifications at the Arnold, with Wade Gillingham doing the honors as the referee.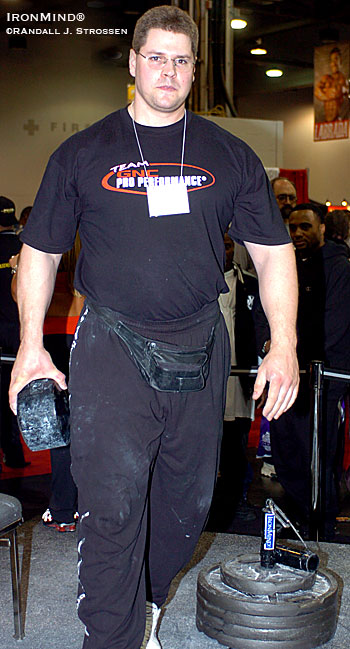 Wade Gillingham works a little Blob magic at the GNC Grip Gauntlet. Be sure to stop by the GNC booth when you are at the Arnold this weekend. IronMind® | Randall J. Strossen photo.

If you feel you are ready to go for your Captains of Crush® Gripper certification on the No. 3, No. 3.5 or No. 4, please ensure that you are familiar with the rules for closing and certification and come to the GNC booth with a referee form (complete your information, please). It will be up to Wade Gillingham if walkups will be allowed, but if so, they will have to show their readiness by first closing either a No. 2.5 or No. 3 Captains of Crush® Gripper from the GNC Grip Gauntlet before a decision will be made about whether an official attempt is warranted.

And talking about the GNC Grip Gauntlet, be sure to give this a run - whether you're a top-drawer grip guy or just want to have some fun, stop by and give it your best shot.