Cao Lei Looks Good at the Asian Weightlifting Championships
Kanazawa, Japan - Even if she was lifting well within her limits, Cao Lei's performance in the women's 75-kg class might well have been the best of the competition so far.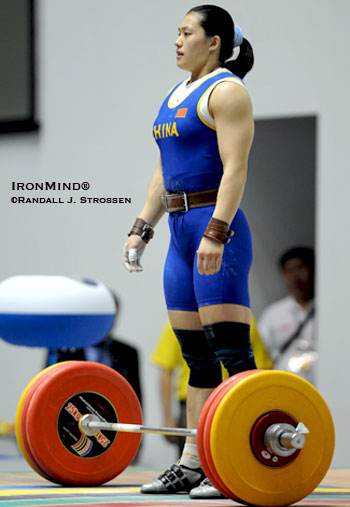 Calm before the storm: Cao Lei (China) is about to clean and jerk 155 kg. IronMind® | Randall J. Strossen photo.

After everyone else was done, Alla Vazhenina (Kazakhstan) opened with 107 kg in the snatch, for a good lift. Cao Lei (China) got on the board with 115 kg for her first attempt, which Vazhenina matched on her second attempt - putting her in the lead on bodyweight. Although it was a good lift, she was somewhat shaky holding the bar overhead. Cao Lei made a very easy 120 kg on her second attempt, to move back into the lead. Vazhenina matched the weight on her third attempt and this time she was shaking like a leaf, but she held on and regained the lead. Cao Lei took 121 kg on her third attempt, for the gold medal in the snatch, and she looked as if she could have gone up another 10 kg just as easily if she'd needed to.

Vazhenina made 140 kg on her first attempt clean and jerk, and Cao Lei made 145 for her opener. Vazhenina was looking for gold medal position in the jerk, so she took 146 kg on her second attempt and made a tough success with the weight - her effort left people nodding in approval. Still not done, Vazhenina went for 148 kg on her final attempt, but she couldn't rack the bar. Cao Lei polished off her performance with 149 kg on her second attempt and then 155 kg on her third attempt - the clean was easy, she had work a little on jerk and was all smiles after a six-for-six night worth three gold medals.

The men's 85-kg class was won by Zhang Shichong (China), with 160/200, which gave him a 10-kg lead over silver medalist Lee Se-Won (Korea), who beat Ulanbek Moldodosov (Uzbekistan) on bodyweight.

In the men's 94-kg category, Asghar Ebrahimi (Iran) hit 170 kg on his first attempt in the snatch, sank the putt with 180 kg on his second attempt and passed on his third - he'd just won the gold medal in the snatch by 13 kg. Ebrahmi's 205-kg second attempt clean and jerk was good enough for the gold medals in the jerk and in the total. He took 212 kg on his third attempt but he only did a pull with it.